Ireland Votes on Proposal to Liberalize Abortion Regime
(Bloomberg) -- Ireland appears poised to liberalize some of Western Europe's most restrictive abortion laws in a vote that may represent the nation's most decisive break yet with its Roman Catholic roots.
Voting on removing a constitutional ban on pregnancy terminations in most circumstances started at 7 a.m. on Friday in Dublin and ends at 10 p.m. The vote count will begin at 9 a.m. on Saturday with polls and bookmakers' odds suggesting the government's proposal will pass. Broadcaster RTE is planning to release an exit poll as early as 11:30 p.m. on Friday.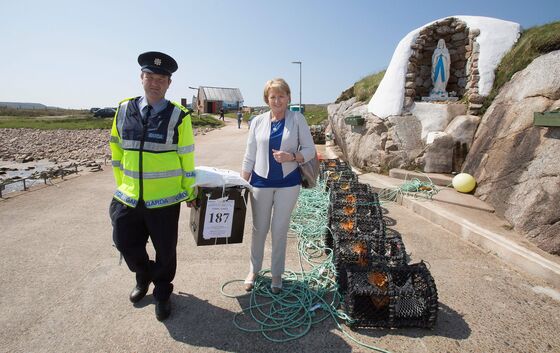 "I don't see any easy win, and I think there's a general caution about polls on this matter because of the nature of the subject," said Diarmaid Ferriter, professor of history at University College Dublin. "But I'm not convinced the No side has enough of a base to defeat the proposal."
At about 1 p.m. in Dublin, campaigners said voter turnout looks strong, with anti-abortion leaders saying the result is too close to call.
Prime Minister Leo Varadkar called on his supporters to avoid complacency, as he sought to settle the last great secular-religious issue in Ireland. Contraception wasn't widely available until the 1990s, while divorce was legalized in a close 1995 vote. In 2015, Ireland became the first country to legalize same-sex marriage by a public vote, and Varadkar, the gay son of an Indian immigrant, became the country's leader last year.
Varadkar, a doctor who once opposed the widespread availability of abortion, said his mind had been changed by a number of "really tragic and difficult cases."
"If you are still undecided, I ask you to put yourself in the shoes of a woman who faces a crisis pregnancy, perhaps she's been raped or perhaps she's a child herself," Varadkar said in a final plea to voters. "If you vote no, nothing can change."
Much of the debate has been fought online, despite Google's decision midway through the campaign to ban all advertisements linked to the referendum. In particular, the #hometovote Twitter hashtag is showcasing Irish emigrants traveling back to vote, in a movement which carries echoes of the marriage referendum.
The law banning abortion is enshrined in the country's constitution, which can only be changed by referendum. As a result of the Eighth Amendment to the constitution, which voters overwhelmingly backed in 1983, the state "acknowledges the right to life of the unborn" and gives the unborn "equal right to life as the mother."
Effectively, that means abortion is banned in Ireland unless the pregnancy poses a real and substantial risk to the mother's life. Almost 200,000 women have traveled to Britain for terminations since 1983, Varadkar said.
The government wants to remove the current language on abortion, paving the way for an abortion with the first 12 weeks of a pregnancy, with stricter limits -- such as a fatal fetal abnormality -- after that.
Polls put the pro-choice side ahead by 12 percentage points to 29 percentage points. Bookmakers' odds suggest the government has an 85 percent chance of succeeding.
Pro-life campaigners have tried to turn the tide by labeling the government's proposals "extreme."
"If abortion on demand is introduced, thousands more abortions will happen in Ireland every year," said Clare McCarthy of the LoveBoth organization. "There can be no mistake; the government is asking us to support extreme abortion on demand."