Ireland's Varadkar Places Brexit at Center of Election Campaign
(Bloomberg) -- Irish Prime Minister Leo Varadkar placed Brexit at the heart of his bid to retain power, as he set Feb. 8 as the general election date.
Varadkar will dissolve parliament today, the president's office said, with lawmakers set to resume work on Feb. 20. He'll lead Fine Gael into a general election for the first time, seizing the initiative after helping secure a deal to minimize the impact on Ireland from Brexit.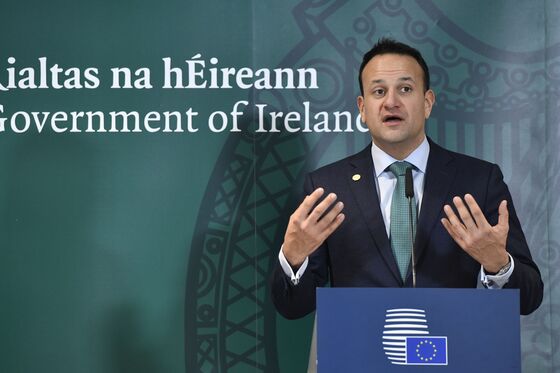 Now, he's asking for time to finish the job by giving him a role negotiating a new trade deal between the European Union and the U.K.
"It's only half-time" in the Brexit process, Varadkar told reporters in Dublin, as he confirmed the date of the ballot.
Earlier: Ireland's Premier Goes for Election With Brexit Win in Hand
Varadkar took over from Enda Kenny in 2017, and the election had be held by April 2021. The 40-year old leader called the vote as parliamentary support for his minority administration crumbled, and he faces a tough fight as he seeks to strengthen his hold on government.
While he has scored successes on the economy, Brexit and Northern Ireland, opposition parties are highlighting failings in the health sector and housing market.
Fine Gael lost all four special elections for vacant parliamentary seats in November, and the most recent opinion poll indicates Varadkar's party is running level with its closest rival, Fianna Fail, at about 27%.
Ireland usually elects coalition or minority governments, with weeks of government formation negotiations routine. This time, the Greens and the Labor Party, are potential king makers.
Varadkar's Fine Gael currently controls 47 seats, well below the 80 needed for a majority. Fianna Fail, led by Micheal Martin, has 45. A former foreign minister, Martin is narrow favorite to become next prime minister, according to Paddy Power odds.