Ireland Pays Price for Ignoring Bank Sell Recommendation
(Bloomberg) -- Has Ireland missed the boat on cashing in on AIB Group Plc?
Three months ago, the head of the nation's debt office, Conor O'Kelly, urged the government to swiftly offload more shares in the lender, after raising 3.4 billion euros ($3.9 billion) by selling about a quarter of the bank last year.
Since O'Kelly's intervention, the lender's shares have since fallen more than 10 percent, trading below last year's 4.40 euro initial public offering price. The shares traded at 4.22 euros as of 11:52 a.m. in Dublin, valuing the company at 11.5 billion euros.
"It shows that trying to time any sale of shares is very tricky when external risks are so prevalent," said Owen Callan, an analyst with Investec Plc in Dublin. "It would be quite difficult to run a share sale in the current environment."
The state remains a key player in the Irish financial sector, holding majority stakes in AIB and Permanent TSB Group Holdings Plc and a minority holding in Bank of Ireland Group Plc after bailouts during the financial crisis. Selling AIB, which is due to report on third-quarter progress on Friday in Dublin, is a key part of the government's plan to recover about 30 billion euros of taxpayer funds injected into the financial system.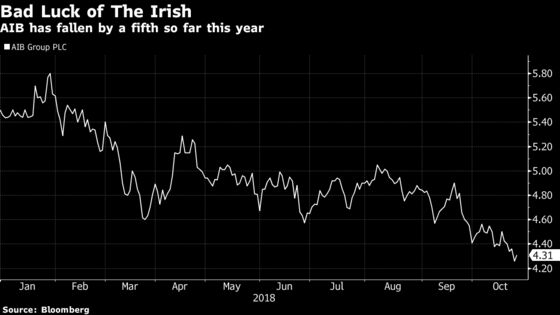 No decision has been made on when to sell more shares in the bank, a finance ministry spokesman said in response to questions. Officials monitor market conditions on an ongoing basis, according to the spokesman.
In theory, Finance Minister Paschal Donohoe's hands are tied to an extent. In its program for government, the minority administration pledged to hold off selling more than 25 percent of any bank before the end of this year.
In reality, cabinet could sign off on a quicker sell off, and it has faced calls to do so. O'Kelly in July pointed to a "material" risk that bank shares could drop given the late stage in the investment cycle.
That's now happened, with the Euro Stoxx Banks Price Index down 25 percent so far this year.
"AIB and Irish banks generally are caught up in worries about the Italian budget, while closer to home there is some concern about lower house prices and weaker-than-expected mortgage growth and Brexit," said Diarmaid Sheridan, an analyst at Dublin-based securities firm Davy.
The bank argues that government control may be hampering its prospects. Donohoe in April voted against AIB's plan for the return of top executive bonuses, and months later, Chief Financial Officer Mark Bourke said he's leaving, for Novo Banco SA, a Portuguese lender majority-owned by Lone Star Funds.
State restrictions, which include caps on pay and an effective bonus ban, make it "very difficult" to operate the bank, Chairman Richard Pym said Oct. 18.
"Ireland is an open economy, state control of the banking system is normally an indication that the economy is not entirely open," he said.
Pym may be waiting a while for the government to sell more shares, with no sale expected before next spring. Any potential share sale is a matter for the government, an AIB spokesman said.
Officials insist they don't have a hard figure in mind before pressing the button on another sale, and either way, the government faces a dilemma. Sell too low, and it's a political problem. Selling too high though has a downside as well, according to Sheridan.
"The state has a lot of stock which they'll likely offload in multiple tranches," he said. "They need to ensure there is demand for future sales, not just the next one."