Ireland Heads for First Grand Coalition as Rivals Reach Deal
(Bloomberg) -- Ireland's historic parties of government took a step toward forming a first-ever grand coalition, as they sought to exclude Sinn Fein from power.
Prime Minister Leo Varadkar and opposition leader Micheal Martin signed off on a broad agreement, paving the way for Fine Gael and Fianna Fail to form a government, though they will need backing from a third party or independent lawmakers.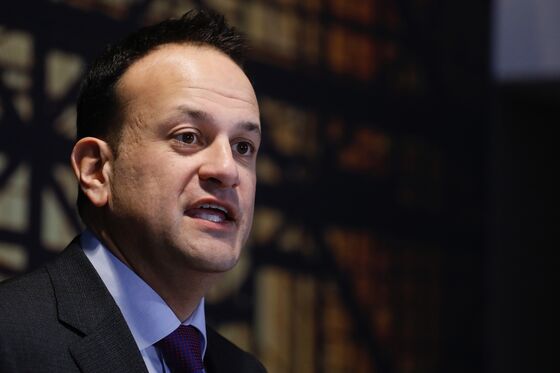 The accord is a "positive development, " Social Protection Minister Regina Doherty said in an interview with broadcaster RTE on Tuesday, saying she hoped it would encourage other parties to enter talks to form a stable coalition.
The move to enter government together effectively ends a political divide that originates from Ireland's civil war almost a century ago. The groups that became Fine Gael and Fianna Fail fought on opposite sides in that conflict, and the split has been the main divide in Irish politics since. While memories of the civil war have faded, some members of both parties still oppose co-operation between them.
The two parties don't have enough seats to command a parliamentary majority, and will seek support from the Greens or Labour to form a stable government. The deal comes 66 days after the general election which saw Sinn Fein upend Irish politics by winning the largest vote share.
Fine Gael and Fianna Fail refuse to govern with Sinn Fein because of its former links to the IRA and its left-wing politics.