Iran President Rejects Foreign Minister Zarif's Resignation
(Bloomberg) -- Iranian President Hassan Rouhani rejected the resignation of Foreign Minister Javad Zarif, in a sign top leaders still support his embattled government's policy of engaging with the West.
"You are on the front line of resisting the U.S.'s extensive pressure," Rouhani said in a letter published Wednesday on state-run Iranian Students News Agency. "I see your resignation as running counter to the nation's interest and I do not accept it."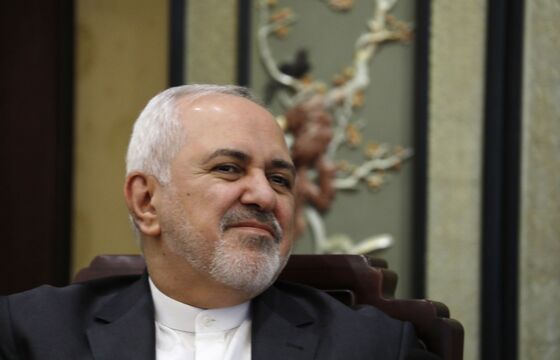 "In the words of the the Supreme Leader, I consider you as trustworthy, valiant, courageous and pious," Rouhani added, suggesting his decision to keep Zarif in place was approved by the country's highest authority, Ayatollah Ali Khamenei.
The powerful Revolutionary Guard Corps also came out behind him, and state-run media showed pictures of Zarif back at work, welcoming the Armenian prime minister.
The resignation imbroglio highlighted the standoff between more moderate politicians like Zarif and hardliners pushing for an aggressive foreign policy against the U.S. The support of many leading officials for Zarif, and by extension, the Rouhani government, strengthened the president's hand.
Zarif, a high-profile politician who continues to favor engagement with the West even after U.S. President Donald Trump pulled his country out of the 2015 nuclear deal and reimposed economic sanctions. He signaled on Tuesday that his decision was prompted by efforts to undermine him.
The Revolutionary Guard Corps, which plays an assertive role in Iran's regional foreign policy and is seen by some as undercutting the ministry, came out in full-throated support of him on Wednesday.
"Zarif is certainly in charge of the foreign policy of Iran," Guards Commander Qassem Soleimani was quoted as saying by Tasnim news agency. "During his tenure in the Foreign Ministry he has been and still is approved and backed by the country's top officials, including the Supreme Leader."
In his response to Rouhani's decision, Zarif wrote on his Instagram page that his sole concern had been to "strengthen the credibility of the Foreign Ministry as the driver of policy and protector of national interest on the international scene."
"I hope the ministry, with the collaboration of all and oversight by the Supreme Leader and the president," will carry on with its responsibilities, Zarif wrote.
The extensive support for Zarif shows there will be no significant change at the macro level when it comes to Iran's foreign policy and no plans to reconsider Iran's outreach and relations with Europe, said Heidarali Masoudi, assistant professor of international relations at Tehran's Shahid Beheshti university.
The political establishment "understands that the current U.S. administration's policy is to turn matters such as Iran's nuclear program, missile program and regional policy into security issues," Masoudi said. "The diplomatic view and engagement approach will continue because Iran doesn't want, with its own hands, to feed the U.S. project of rallying nations against Iran."