Iran Hardliners Vindicated by Trump Take Aim at Zarif
(Bloomberg) -- Just last week in Munich, Iran's Foreign Minister Javad Zarif looked to be in his element as he addressed his global audience from the podium, dismissing Israeli accusations and taking swipes at U.S. policy failures in his neighborhood.
Zarif and his familiar animated style might have vacated the international stage for good after he announced his intention to resign, hinting at domestic political interference in his role.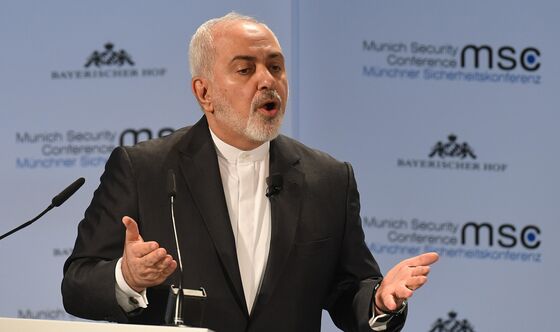 U.S.-educated Zarif's ability to engage with diplomats and represent the Islamic Republic in fluent, idiomatic English made him a draw at events such as the annual Munich Security Conference. But his international regard has always belied a tortured relationship with his hardline opponents at home, who revile him as an architect of Iran's stumbling nuclear deal and a symbol of the folly of engagement with the West.
President Hassan Rouhani rejected Zarif's resignation, saying it was against national interests, according to state-run media. But the back and forth shows the internal power struggle over Iran's future is becoming more urgent, as hardliners are seen as vindicated in their anti-western stance by President Donald Trump's decision to abandon the nuclear accord and reimpose U.S. sanctions. Perceived success on the battlefields of Syria alongside Russia and Bashar Al-Assad adds to a sense among hardliners that the West has nothing to offer.
His supporters say Zarif has been exhausted into bowing out of the fight at home — a victim of Iran's increasingly polarized politics, where absolutist, dogmatic views have ultimate sway over the levers of power in Tehran.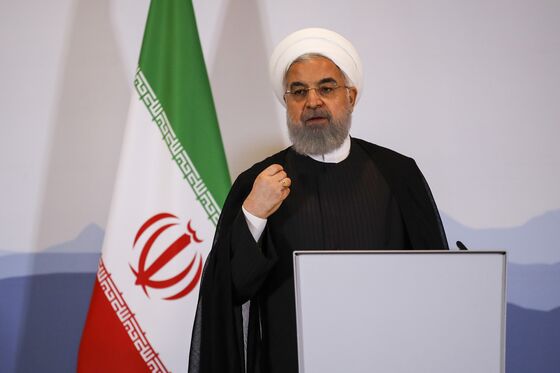 Losing him at a time of economic upheaval would be a blow to Rouhani, a fellow moderate, and would mean the nuclear deal faced a real chance of collapsing -- both outcomes cheered by those against reformist moves.
"When Rouhani's term finishes, you will see a shift in Iranian politics," said Fouad Izadi, assistant professor at the faculty of World Studies at the University of Tehran and a vocal critic of the nuclear deal. "The remaining people who have not resigned will be forced out."
In Tehran, many Iranians read the news of Zarif's offer to quit late on Monday with disappointment and shock. Social media has been dominated by conversations about the reasons for his decision. Several commentators saw Zarif's absence from pictures of Syrian President Assad's meeting in Tehran hours earlier with Supreme Leader Ayatollah Ali Khamenei and Rouhani as a sign that he was sidelined from the visit.
Insiders have been less surprised.
"It's been brewing for a few months and it's a result of the tension that's arisen between domestic politics and foreign policy," said Saeed Laylaz, a onetime economic adviser to the reformist former president, Mohammad Khatami. "He's been trying to achieve something in foreign policy that domestic politics just doesn't allow for."
If Zarif were to go, it would further weaken public confidence in Rouhani's ability to manage the economic fallout from the U.S. withdrawal from the 2015 nuclear deal. The accord's perceived failure -- and Europe's makeshift attempts to salvage it -- could signal a shift toward the hardliners' uncompromising direction.
Images of Ghassem Soleimani, the commander of the Quds Force, an elite wing of the Islamic Revolutionary Guards, sitting alongside Assad and Khamenei support the view that Iran's Syria policy has served to chasten the U.S. and its regional ally, Saudi Arabia.
"Zarif knew that he was continuously being weakened by more hardline forces," said James M. Dorsey, a Middle East scholar at Nanyang Technological University in Singapore.
Dorsey said a major source of Zarif's frustration has been a sustained pushback against ratifying anti-money laundering and counter-financing of terrorism legislation that would keep Iran off the Paris-based Financial Action Task Force (FATF) blacklist and reduce the risk profile of Iran's banking sector.
Yet Rouhani and his supporters are fighting for Zarif to stay on and attempt to deny the hardliners the possibility of usurping their majority in parliamentary elections next year.
In a speech addressing Iran's FATF compliance the morning after Zarif's Instagram post, Rouhani sharply rebuked those at the top of Iran's political and clerical hierarchy who are blocking banking legislation and stoking fear and distrust of the government among their pious, working class supporters.
"The country cannot be in the hands of ten or 20 people and then claim that every decision they make is ours," Rouhani said, according to the state-run Islamic Republic News Agency. The comments refer to senior political bodies such as the Guardian Council and Expediency and Discernment Council which consist only of men, mostly senior clerics, former high-ranking generals and political veterans, many of whom are appointed by Khamenei.
Rouhani's chief spokesman, Mahmoud Vaezi, alluded to the tussle for power in a Twitter post saying that the president regards Iran as having "only one foreign policy and only one minister of foreign affairs."
Reformists and moderate lawmakers have meanwhile started a petition calling on Zarif to reverse his decision. A majority of members of parliament have already signed it. Support also came from the Revolutionary Guards, one of the institutions widely seen as undermining Zarif's influence.
The stakes are high, and the fate of former President Khatami serves as a warning: His efforts to engage with the West were unsuccessful and his tenure was followed by eight years of hardline, populist government by Mahmoud Ahmadinejad. He's now largely shunned by the establishment, his image and name banned by a court from publication in the media.
Laylaz, Khatami's former adviser, said that Zarif's resignation has the potential to shine a light on "the contradictions and tensions between Iran's foreign and domestic politics" and that he hopes it forces officials to act.
Otherwise, "it only makes hardliners happy, whether they're in Tehran, Washington, Riyadh or Tel Aviv," he said. "All four groups are having a party right now."