Iowa Democratic Chair Tried to Salvage Caucus Mess in Late Email
(Bloomberg) -- The chairman of the Iowa Democratic Party sought to reassure top state party officials after disastrous delays in reporting caucus results raised questions about the future of the first-in-the-nation status of Iowa's contest.
In an email sent late Tuesday and obtained by Bloomberg News, Troy Price said his team was working to confirm the accuracy of results from Monday's caucus, a complete tally of which was delayed by more than 24 hours after new reporting procedures and a phone app combined to cause system failure.
"As you know, this has been a challenging few days for our team and our state party," he wrote. "Media accounts tell part of the story - technical issues and new reporting requirements caused delays and confusion. What received less attention by the media, was the deliberative and cross-functional approach we brought to preparing for and solving these challenges."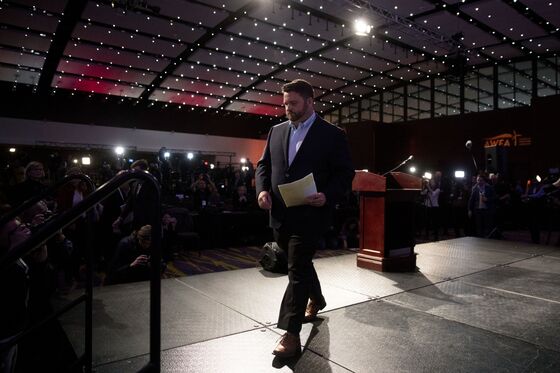 Price's email, sent shortly after 11 p.m Central time to the Iowa Democratic Party's state central committee, came as Price has come under criticism for how the party has handled the fallout of reporting errors.
The counting disaster could not have come at a worse time for Iowa as many party leaders and lawmakers are questioning why such a small, overwhelmingly white, state should have such an outsize role in determining who becomes president of the United States.
Price said he was writing "from the boiler room at the Events Center, where the IDP team has been working around the clock to collect, validate and release the results of this week's caucuses."
Price outlined the steps the party had taken over the last 48 hours to ensure the accuracy of the results. They have launched a full-scale investigation after "inconsistencies" were found in reporting, resolved a coding issue in the reporting system and cross-checked paper documentation with data recorded in the app.
Price said more results, of which only 71% of precincts has been reported, would be released in the "coming hours."
"I know it has been a long 24 hours," Price wrote. "I have faith we will emerge from this episode with new strength and support for our collective work," he wrote. I want to thank all of you for your leadership and continued work on behalf of the Iowa Democratic Party."