Brazil's New Central Bank Chief Sails Through Confirmation
(Bloomberg) -- Brazil's Senate approved President Jair Bolsonaro's nominee to head the central bank on Tuesday evening.
Senators voted 55 to 6 with one abstention in favor of Roberto Campos Neto, following the unanimous backing of the upper chamber's Economic Affairs Committee earlier in the day. The incoming bank chief ticked off several of the right boxes for investors, such as reaffirming the need for fiscal discipline, inflation control and central bank autonomy. In a signal of continuity, the long-time private sector banker even used an expression used by the current board in official statements: "caution, serenity, and perseverance."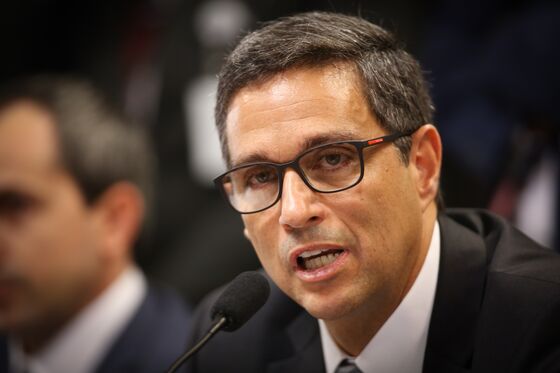 The grandson of a famous economist-turned politician who signed the decree creating the central bank, Campos Neto was known in financial circles. Yet unlike previous nominees, the 49-year-old had no record of academic papers or public speeches for investors to pore over. Uncertainty appears to have been laid to rest.
"Overall, the new central bank board inspires as much confidence and appears as credible as the departing one," said Alberto Ramos, chief economist for Latin America at Goldman Sachs. "The central bank will remain orthodox and conservative in policy making."
Swap contracts, which are a barometer of future interest rate moves, rose as Campos Neto affirmed his commitment to low inflation, though they pared gains in afternoon trading.
Meet President Bolsonaro's Nominee to Head Brazil's Central Bank
Two other central bank director nominees also got the green light from the Senate -- Bruno Serra Fernandes for monetary policy and Joao Manoel Pinho de Mello for banking system organization. The new bank chief may take up his position as early as Thursday and all three will now participate in the next rate-setting meeting on March 20.
Campos Neto, who was previously a treasurer at Santander, also dovetailed with the liberal line laid out by University of Chicago-trained Economy Minister Paulo Guedes, who advocates downsizing government and privatizing state assets.
"The Brazilian state has become too big and inefficient, and doesn't meet the basic needs of the population," Campos Neto said. "It's time to do more with fewer resources."
The central bank has done excellent work in controlling consumer prices since 2016, said Campos Neto, who vowed to continue pursuing inflation targets. Enshrining the monetary authority's formal autonomy in law would further increase the institution's credibility and boost the effectiveness of monetary policy, he said.
Between a more challenging global outlook and uncertainty over efforts to fix Brazil's public finances, investors disagree as to whether a cut to the benchmark Selic rate is on the cards any time soon. Doves point to slow growth, on-target inflation expectations and decent prospects for a pension reform that would shrink a gaping budget deficit.
But economists at BNP Paribas aren't convinced, as they see policy makers lifting the key rate this year amid a prolonged debate that'll end up halving the projected savings from the pension bill.
To succeed in his first public-service role, Campos Neto will have to navigate Brazil's turbulent political waters, said Hari Hariharan, chief executive officer of NWI Management LP. Still, his knowledge of local and international markets are second-to-none, he said.
"This is a Rolls-Royce that Brazil is getting for the central bank."