Investors Flee Turkish Lira as Istanbul Election Rocks Outlook
The ruling, which is final, met a request by the ruling party of President Recep Tayyip Erdogan. His refusal to concede defeat in the city where he built his political career has been criticized by opponents as a sign of his increasingly authoritarian rule during more than a decade and a half in power.
"Investors have once again been reminded of the fragile and eroding state of Turkey's democratic institutions," said Ilya Gofshteyn, a currency strategist at Standard Chartered in New York.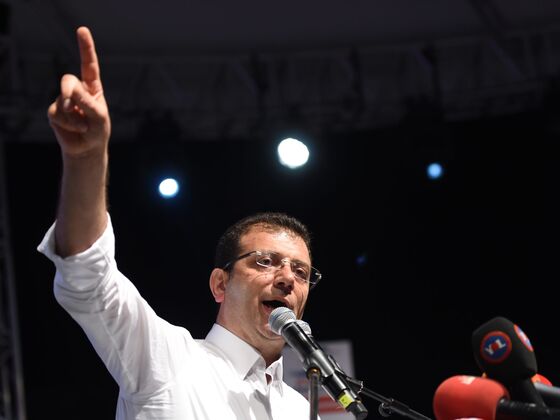 The lira fell more than 3 percent after the court's decision was announced, leading emerging-market losses and reaching the lowest level in seven months. The currency was already under pressure, breaching the key 6-per-dollar mark earlier Monday amid a selloff in developing nation assets on trade war woes.
Here's what market watchers are saying about the decision in Turkey:
Jens Nystedt, a senior portfolio manager at Emso Asset Management in New York:
From a market perspective, more than 4 years of no new elections and structural reform measures including tighter fiscal policy "was a welcome trajectory"
"Now election uncertainty will return and a lot of the necessary policy corrections will be at best delayed until July, which is unfortunate"
"The lira and Turkish assets have been a long standing underweight for many real money accounts"
"My sense is that foreigners, including fast money funds, have been reducing into the recent stability in FX because of the risk of a return of political uncertainty"
Michael Roche, a strategist at Seaport Global Holdings in New York:
"Erdogan's ruling coalition lost control of the capital city, Ankara and the commercial capital, Istanbul, which showed that discontent with his economic management was widespread and hence makes him and his coalition vulnerable"
"His reaction in forcing the election commission to redo the Istanbul mayoral election raises further concerns on Mr. Erdogan's governance"
"The market is anticipating more policy instability and political conflict -- domestically and in foreign affairs -- which will further harm the economy and hence prompted this latest bout of capital withdrawal"
Timothy Ash, a strategist at BlueBay Asset Management in London:
Called the decision "unprecedented for Turkey and whichever way you look at it damaging in terms of perceptions of democracy in Turkey: either the AKP was right and the vote was tampered with; or the original vote was fair and the YSK decision at the behest of the ruling AKP is now unfair."
"This leaves Turkish markets and the economy vulnerable in the period to re-run elections. Remember the AKP economic leadership promised much needed policy normalisation after the original March 31 poll. Now there will be two more months of uncertainty and potential risks to macro stability."
"Lots of questions to ask: will the opposition boycott the vote; will there be Gezi park style street protests, will the opposition run in the elections and win the re-vote. And what will be the reaction of the West and what does this mean for Turkey's Western orientation? And how will markets and the economy fair in the intervening period?"
Standard Chartered's Gofshteyn:
"We have been biased to be short TRY on exactly these sorts of fears, and we continue to expect underperformance relative to EM peers on the back of these trends"
Shamaila Khan, a money manager at AllianceBernstein in New York:
Turkey renewing Istanbul elections "poses a distraction for the government" instead of keeping focus on the economy
"Looking out for the next election has been the base case in Turkey for some time now"
The decision just adds to the already existing political noise