Investor Who Called End of Emerging Bond Rally Now Sees Rebound
(Bloomberg) -- Just as emerging markets were starting to top out in late January, Damien Buchet correctly called time on the rally. Now, the chief investment officer for total return strategy at Finisterre Capital says a rebound is coming before the end of the year.
Buchet has spent this month rebuilding risk in his portfolios, cutting cash to slightly below 20 percent from 31 to 32 percent at the end of August. He said he's been buying all asset classes in Mexico, as well as Ukrainian notes and GDP-linked warrants, and has even bought short-maturity paper in Argentina and raised exposure to Turkey.
The London-based fund manager's optimism is based on his view that the dollar rally is all but over and most of the Federal Reserve rate-hiking cycle is priced in. Also, a number of idiosyncratic risks -- including the Brazilian election, sanctions on Russia and Argentina's predicament -- are likely to be resolved over the next couple of months, he said.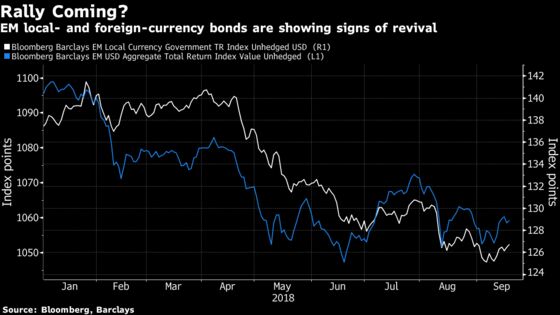 "In the next four to eight weeks we'll still have a fairly difficult period to go through with prospects for dislocations in some countries," Buchet said in an interview in Singapore Tuesday. "But then, come the U.S. mid-term elections, I can perfectly imagine the conditions being ripe for a good year-end rally."
See also: U.S. yields lose fear factor for EM Assets as bulls waken
A Bloomberg Barclays index of local-currency emerging-market debt has fallen around 10 percent from a peak in late January. A similar gauge of foreign-currency bonds has dropped 3.6 percent from a high on Jan. 8.
Finisterre, which manages around $2 billion of emerging-market government and corporate debt and currencies, has been favoring shorter-maturity foreign-currency notes, Buchet said. The Finisterre Unconstrained Emerging Markets Fixed Income Fund has declined 0.5 percent amid this year's rout, according to data compiled by Bloomberg.
Mexico now looks like a "bright spot" in Latin America, and Finisterre has gone back into Petroleos Mexicanos, the state-owned oil company known as Pemex, Buchet said. The decision to buy debt from Argentina and Ukraine is due to assistance from the International Monetary Fund, he said, while Indonesian government notes also offer value after the flow-driven sell-off.
In Turkey, Finisterre cut shorts and added tactical longs after the central bank raised its policy rate on Sept. 13, although Buchet said he's not sure how long the company will hold the positions. He said he's encouraged that the crises in Turkey and Argentina have been mainly contained.
"The good news of this year's developments is that they have not morphed into a full-blown contagion crisis," Buchet said. "That's a test of resilience."