Bribery Probe of Interpol Chief Shows Opaque Chinese Justice
(Bloomberg) -- A clandestine bribery investigation into Interpol's first Chinese president has put a new spotlight on the country's opaque legal system and undercut Beijing's efforts to build prestige in the global law enforcement community.
The Chinese Ministry of Public Security said Monday that former Interpol President Meng Hongwei was being investigated under suspicion of accepting bribes and violating other state laws. The announcement helped resolve some mystery surrounding Meng's whereabouts more than a week after he left France for China, reportedly sent his wife a picture of a knife and stopped communicating.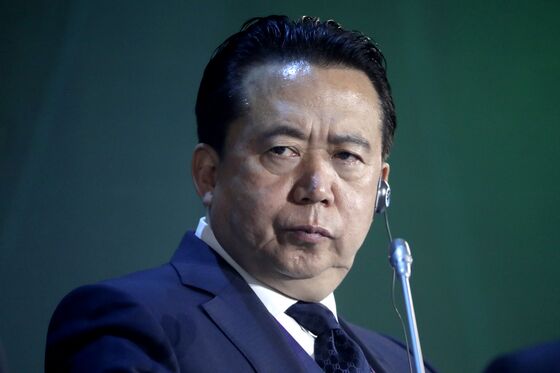 Lyon-based Interpol said in a statement Sunday said that the international police agency's general secretariat had received Meng's resignation, effective immediately. China's top anti-corruption body had previously said it was holding Meng, who also serves as vice minister of public security, on suspicion that he violated unspecified state laws.
Meng's downfall was the latest illustration of how no one is safe under Chinese President Xi Jinping's anti-corruption campaign which has swept up more than 1.5 million officials over the past six years. He was one of the key Chinese officials tasked with tracking down global fugitives from the graft crackdown.
His election as Interpol president -- during a closed-door vote in 2016 -- was seen as a major coup for Communist Party efforts to establish itself as a responsible stakeholder in global affairs. At the time, human rights groups criticized the appointment over concerns that China might use the perch to facilitate the use of extrajudicial practice -- such as detention without charge -- that it has employed widely in the corruption crackdown.
"The Interpol chief's case exposed that China has for some time not followed judicial process in dealing with corrupt officials," said Gu Su, a professor of philosophy and law at Nanjing University. "The international backlash should serve as a wake-up call to the party, since there are obvious flaws in China's approach of handling Meng's case."
France is investigating the disappearance of Meng, who is also a senior Chinese security official, a person familiar with the matter said Friday. Interpol has acknowledged reports about Meng's disappearance, and said in an email that it "is a matter for the relevant authorities in both France and China."
The official was taken into custody immediately upon his arrival in China for questioning by authorities, the South China Morning Post reported, citing a source it didn't identify. His wife has been placed under French police protection since reporting his disappearance, Agence France-Presse said, citing the interior ministry.
Meng is being held by the National Supervision Commission, a powerful new body created by constitutional amendment earlier this year with sweeping investigatory powers over millions of public servants, party officials, academics, journalists and state company managers. The commission has broad authority to detain suspects in complex cases or when there's a risk they could flee, commit suicide or otherwise obstruct investigations.
"The investigation against Meng Hongwei's suspected acceptance of bribery and violations of law was very timely, completely correct and very wise," the Public Security Ministry said in a statement. "It shows that there are no privileges or exceptions before the law, and anyone who breaks the law will be severely prosecuted and severely punished." 
Grace Meng believed her husband to be in danger, the AFP reported, citing a statement Sunday to reporters in Lyon, France, where Interpol is headquartered. Meng said her husband sent her an image of a knife on Sept. 25 before disappearing during a trip to China, which she interpreted as a sign he was in danger, the Associated Press reported.
While Meng was head of the executive committee that oversees Interpol, the agency is run by Secretary General Juergen Stock.