Infighting in Brazil's Ruling Party Costs Bolsonaro Key Allies
(Bloomberg) -- President Jair Bolsonaro is losing allies in Congress as he fights over control of his own political party and tries to distance himself from allegations of campaign financing irregularities at last year's elections.
The president cut ties with two lawmakers that were among his main supporters, dismissing Joice Hasselmann from her post as government leader in Congress and attempting to replace the leader of his PSL party in the lower house, deputy Waldir de Oliveira. Hasselmann, one of the most media-savvy lawmakers to emerge in Brazil's crop of outsider politicians, was the most-voted congresswoman in the country's history. Oliveira was an old-time ally.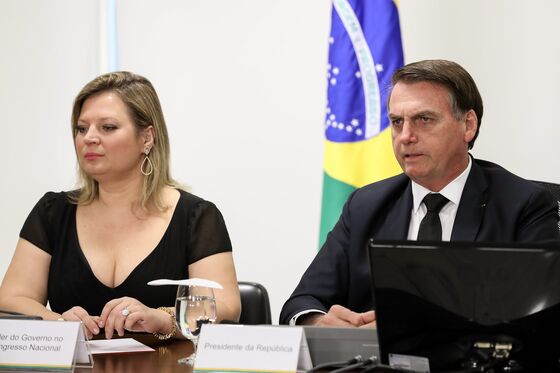 Bolsonaro's PSL party, the second largest in the house, is now split as the president seeks to seize control and get enough support to make his son, Eduardo, the new party leader. The younger Bolsonaro had been initially tapped by the president to become Brazil's ambassador to the U.S., but the latest developments put his nomination in doubt. Newspaper Valor Economico said the president has given up on the appointment, citing a government official it didn't name.
The PSL held an extraordinary meeting on Friday to discuss the situation, and suspended five of its members who were considered disloyal to the party. Some called on Bolsonaro to ease the animosity in the room.
"We need a gesture from President Bolsonaro to open a communication line with the PSL president," Major Olimpio, the government leader in the Senate, said during the meeting. "The president is always welcome, he's our political icon."
The infighting raises questions about the future of Bolsonaro's ambitious reform agenda, which includes overhauling the tax system and privatizing state assets, as it may weaken the government's support base in Congress.
"This fight is a waste of time in a country that needs to push an economic recovery agenda," said Richard Back, head of Latin America political strategy at XP Investimentos.
Having control of the PSL also unlocks access to public funds allocated to the party for campaigns. Brazil holds municipal elections next year and the PSL is eager to replicate the success obtained in last year's election. The party has faced allegations of irregularities in the use of campaign funds since the 2018 elections. Earlier this week, Brazilian police targeted the party's president, Luciano Bivar, as it investigated whether funds allocated for female candidates were diverted.
"The president wants to have the safe key, which is the key to party funds," said Delegado Waldir, the PSL leader in the lower house.