Indonesian Stocks Post Best Winning Streak in Quarter Century
(Bloomberg) -- With a 10th day of gains, Indonesian stocks completed their longest run of advances since 1995 on bets President Joko Widodo will pursue tougher economic reforms in his second term.
The benchmark Jakarta Composite Index rose 1.3% to its highest level since Sept. 12, extending its gain after the central bank cut its key interest rate for a fourth month. The gauge rallied more than 5% in 10 days.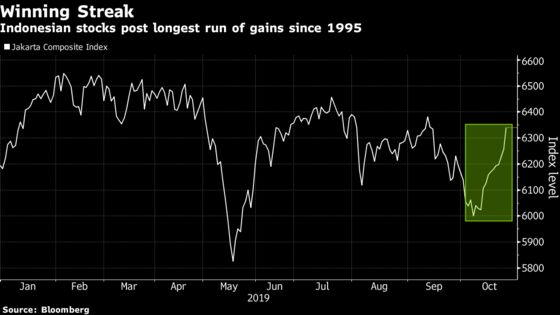 Jokowi, as Widodo is known, has pledged to boost investment and make it easier to do business after being sworn in for a second five-year term on Sunday. The president has reappointed veteran Finance Minister Sri Mulyani Indrawati to the post and brought in business tycoons and technocrats to handle key economic ministries.
The new lineup will help restore investor confidence, according to Citigroup Inc.
"We believe the new cabinet is decent and could further support reforms going forward," said Ferry Wong, an analyst at the U.S. bank. Despite the fact that opposition party Gerindra has joined the government, "both structural reforms and difficult laws could be pushed without much difficulty."
Citigroup sees earnings-per-share growth of 12% for Indonesian companies in 2020.
Widodo's rival in the 2019 and 2014 elections, Prabowo Subianto, became his defense minister on Wednesday, expanding the coalition of parties backing the government to almost 75% of the seats in the parliament.