Republican Charged With Insider Trading Looks to Skip Court Proceeding
(Bloomberg) -- Chris Collins seems more worried about next month's election than his pending insider-trading trial.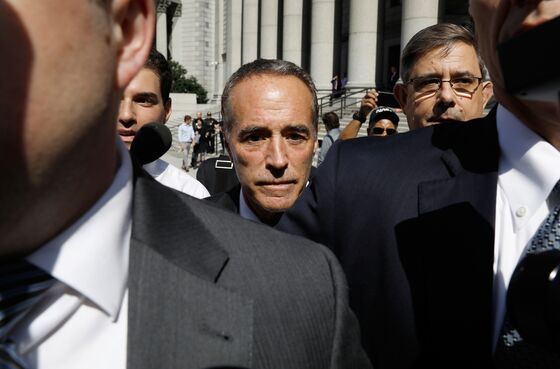 The Republican congressman from western New York is looking to skip an Oct. 11 pre-trial conference in Manhattan, just weeks before the Nov. 6 vote, as his legal troubles show a tightening race in the heavily Republican district that incorporates the Buffalo suburbs. The Crystal Ball political website has moved the contest from "Likely R" to "Leans R," as has FiveThirtyEight.
Collins, 68, is accused of tipping his son about negative drug trials at an Australian biotech company, which prompted his son to sell his shares and tell others to do the same. Collins denies wrongdoing. He asked a judge on Thursday for permission to be excused from the conference, where scheduling and discovery issues are to be discussed. Such requests are routinely granted.
The third-term representative was a heavy favorite for re-election before he was charged. He initially suspended his campaign, then changed his mind and opted to stay in the race. His opponent, a Democratic town supervisor in Grand Island, New York, has been trying to get Collins to debate -- even on the Manhattan courthouse's steps, if necessary.
"I'll meet you there October 11, the date of your hearing so it's easier for you," Nate McMurray said in a Sept. 30 tweet. "Right there, on the courthouse steps, let's debate. It will be hard for the local media, but we'll figure it out. Let's go!"
A spokesman for Collins called the request to skip the conference "a fairly common practice for a hearing of this type."