India Removes Top Investigative Officials After Corruption Allegations
(Bloomberg) -- Prime Minister Narendra Modi's government has taken the rare step of removing the director of the country's top federal law enforcement agency and one of his deputies over "grave allegations of corruption."
Alok Kumar Verma, director of the Central Bureau of Investigation, or CBI, and Rakesh Asthana, a special director at the agency, have been relieved of their roles, the government said in a statement on Wednesday. Both men were accusing the other of corruption. Modi's administration appointed CBI official M. Nageshwar Rao as the new director, a decision it said was an "interim measure."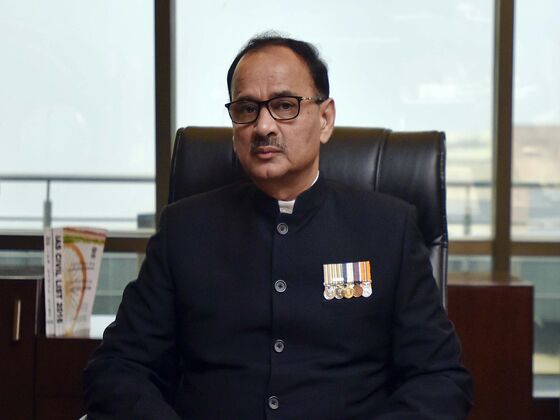 The administration said it acted given the "extraordinary and unprecedented circumstances," including the CBI's Verma failing to furnish documents in an investigation being conducted by the Central Vigilance Commission, which oversees the CBI. The supervisory body said Verma had been "non-cooperative" and had created "willful obstructions in the functioning of the Commission," the statement said.
Verma contested his removal at the Supreme Court of India. A three-judge panel headed by Chief Justice Ranjan Gogoi agreed to an early hearing of his case on Friday.
In a petition to the court, Verma called his ousting "patently illegal" because of a fixed two-year term that is supposed to guarantee the CBI director's independence from the government. He said the move "erodes the independence of the institution" as well as the morale of its officers.
He accused Asthana, who served as a police commissioner in Gujarat while Modi was that state's chief minister, of obstructing investigations, including "extremely sensitive" ones that cannot be divulged publicly, the document says.
CBI spokesman Abhishek Dayal did not respond to phone calls or a text message on Wednesday.
Corruption Investigations
The CBI is India's main national investigative agency -- the equivalent of the U.S. Federal Bureau of Investigation -- and has a broad remit to pursue high-profile criminal cases, particularly those of national importance or ones deemed too sensitive for ordinary police.
The CBI probes murder, corruption, bribery, fraud and other economic offenses, and was the main agency investigating India's biggest bank fraud, an alleged $2 billion scam involving top jewelers.
Opposition parties have questioned the government's intervention. "Who are they protecting & what are they hiding?" the rival Congress Party asked on Twitter.
A spokesman for the prime minister's office did not respond to a request for comment.