India, Australia Agree to Bolster Strategic Ties in Partnership
(Bloomberg) -- Indian Prime Minister Narendra Modi and his Australian counterpart Scott Morrison signed a crucial defense agreement and upgraded ties to a Comprehensive Strategic Partnership, as both nations navigate fraught relations with China.
The agreement, confirmed by Morrison in his opening remarks of a virtual summit between the leaders on Thursday, may allow the two nations to access each other's bases and ports and strengthen their defense ties. The Mutual Logistics Support pact is similar to an agreement India signed with the U.S in 2016.
"The Comprehensive Strategic Partnership that we are forming today, going to a whole new level in the relationship, will continue to build the trust, because we want commercial and trading relationships that are built on trust," Morrison said.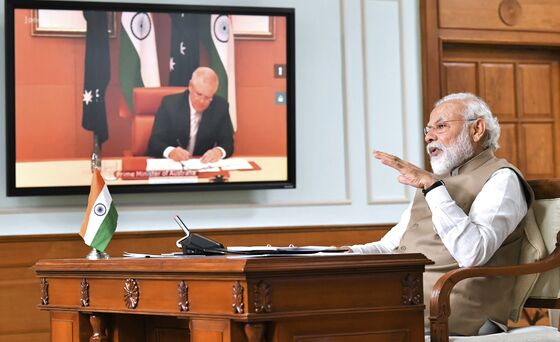 Both countries "share a view that many of the future challenges are likely to occur in, and emanate from, the maritime domain," according to a joint statement released after the meeting.
The agreements on cyber, science and infrastructure signed today will help deepen trade, Morrison said. The two countries will also continue their meetings between foreign and defense ministers to strengthen ties. Australia's merchandise trade with India for the year ended June 2019 was A$21.1 billion ($14.6 billion), according to Australia's Department of Foreign Affairs and Trade.
"The trade and investment flows between our countries are not where you and I would both like them to be, but they are growing," Morrison said.
Modi noted it was the "sacred responsibility" of India and Australia to uphold the global values of democracy, rule of law and respect of international institutions. "In this time of a global pandemic this partnership will play and important role."
Australia is seeking to bolster ties in the Indo-Pacific region where it's feeling squeezed between its support of traditional ally the U.S. and its need to placate Beijing, its largest trading partner. India is looking to establish itself as a regional manufacturing hub and attract companies seeking to move their supply chains out of China.
Both now are having prickly relations with Beijing. India's troops have been engaged in a weeks-long face-off with Chinese soldiers at the nations' Himalayan borders.
Australia, the world's most China-dependent developed economy, has raised Beijing's ire by calling for an investigation into the origins of the pandemic, a sensitive topic for President Xi Jinping's government which has faced criticism for its managing of the initial stages of the outbreak in Wuhan. China barred meat imports from four Australian slaughterhouses for "technical" reasons, and slapped tariffs of more than 80% on Australian barley in May after a long-running inquiry.
A "new cold war" between the U.S. and China also formed the backdrop of the virtual meeting. Worsening relations between the two countries since 2017 has jeopardized world trade. And rising global anger toward China's handling of the coronavirus pandemic is further complicating global ties and economic recovery.
While Morrison has good relations with U.S. President Donald Trump, he will be aware that the leader's "America First" rhetoric jeopardizes traditional alliances. Australia is also watching for signs that the U.S.-China trade deal could hit its own exports to China.
"Australia and India have real concerns about U.S.-China tensions and the disruptions to global trade caused by that issue and by China's use or threats of sanctions against countries that criticize its behavior," said Ian Hall, professor in international relations at Griffith University in Queensland, Australia, and author of "Modi and the Reinvention of Indian Foreign Policy."
"They are looking to try to boost bilateral trade and investment between Australia and India as a result, to try to manage some of the risk inherent in dealing with a much more assertive China and an unpredictable U.S.," Hall said.
India and Australia, along with the U.S. and Japan, are part of the so-called Quad collective of democracies that have started to present a united front on regional security issues, a move Beijing has criticized. The Quad talks were elevated to ministerial level last year.
They're seeking more maritime engagement of their navies at a time when China began to more forcefully assert its presence in the South China and Indian Ocean.
Australia, which has sought an independent enguiry into the coronavirus pandemic at the World Health Organization, believes India is taking over as the chair of the World Health Organization's executive board at a "very important time," Morrison said. China, where the virus was first reported, has been facing criticism for its handling of the pandemic.