India, Pakistan Resume Sniping at UN After Meeting Falls Through
(Bloomberg) -- India and Pakistan, whose foreign ministers almost met in New York for what would have been the nuclear-armed neighbors' first senior-level talks in three years, instead traded barbs from the United Nations General Assembly podium.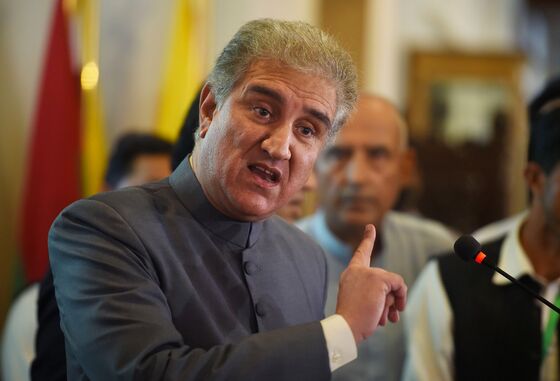 India's external affairs minister on Saturday blamed Pakistan's alleged support of violence against it for the breakdown of the most recent attempt to mend ties, accusing Pakistan of harboring terrorist groups and using them as an instrument of foreign policy. Pakistan's foreign minister, speaking hours later from the same rostrum, said India was seeking to "divert world attention from its brutalities."
"India called off dialogue for a third time for the Modi government, each time on flimsy grounds," Pakistan Foreign Minister Shah Mahmood Qureshi said, calling on India to seek a resolution of disputes. "They prefer politics over peace. They used the Kashmir violence as an excuse to back out of the talks."
India last week called off a foreign minister-level meeting on the sidelines of the UN meeting amid fresh violence in the Kashmir region, which is claimed in full by both nations. In response, Pakistan's Prime Minister Imran Khan, who suggested the renewed push at reconciliation after his July election victory, said he was disappointed by India's "arrogant response."
"We are accused of sabotaging the process of talks," India Minister of External Affairs Sushma Swaraj said Saturday from the podium. "This is a complete lie. We believe that talks are only rational means to resolve the most complex of disputes. Talks with Pakistan have begun many times. If they stopped, it was only because of their behavior."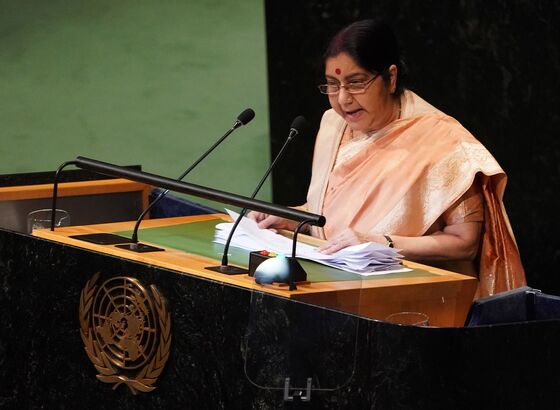 The previous attempt at talks between the South Asian neighbors came in December 2015, when Indian Prime Minister Narendra Modi made a surprise visit to then-Pakistani premier Nawaz Sharif in Lahore. The two nations later called off bilateral talks after attacks on Indian military bases that Indian officials blamed on Pakistani militants.
India has long said it's open to peace talks if Pakistan stops its covert support for groups that strike inside India. The U.S. has also called on Islamabad to end support for terrorist groups. Pakistan has consistently denied that it supports such groups.