Independents Align With Democrats on Economy in Threat to GOP
(Bloomberg) -- Consumer sentiment among political independents is more in step with Democrats just before the midterm vote. That's a sign Republicans may have a harder time keeping control of Congress, if the past is any guide.
The weekly Bloomberg Consumer Comfort Index for independent voters edged down to 57.3, data released Thursday show. That was closer to the gauge for Democrats, which rose to 49.8, than it was for the level of Republicans, which slipped to 78.4 but remained near a record 82 last month.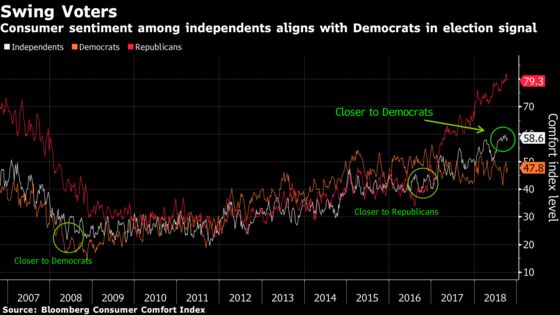 Sentiment among independents tracking one party more closely has historically indicated which way those unaligned voters will lean, said Gary Langer, president of polling firm Langer Research Associates LLC, which produces the comfort surveys for Bloomberg. He said independent sentiment aligned more with Republicans in the lead up to Donald Trump's shock win in 2016, while it was more in tune with Democrats before Barack Obama's 2008 victory.
"Independents' vote preferences are decidedly Democratic right now, which makes it look like a strong Democratic year," Langer said. When independents are "more in-tune with the economic attitudes that are shared with one or the other party, then they're also more in-tune to that party in general."
The broader Consumer Comfort Index eased to 60.1 from 60.8, still near a 17-year high. A measure of the buying climate fell to a seven-week low.