In Kavanaugh Pivot, Flake Certainty Becomes Doubt, Then Delay
(Bloomberg) -- Brett Kavanaugh's confirmation to the Supreme Court went from apparent certainty to open question with a small wave and an anguished meeting between two friends in an anteroom on the second floor of the Dirksen Senate Office Building.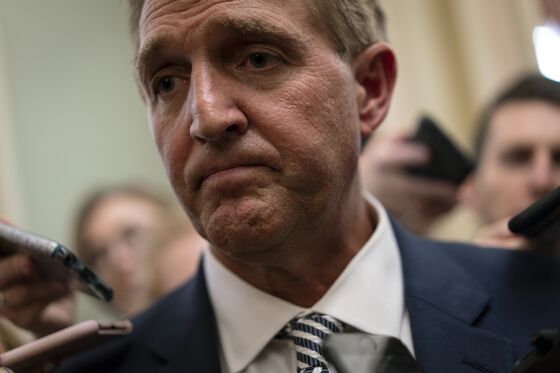 Senator Jeff Flake, an Arizona Republican and key vote on Kavanaugh's nomination, had provided the judge crucial momentum earlier in the morning. In a statement issued at his office at 9:26 a.m., Flake said that while he had "as much doubt as certainty" on allegations surrounding Kavanaugh, he had decided to ultimately vote for his confirmation and give him the final vote needed to emerge from Judiciary Committee, which Republicans narrowly control.
The announcement was a severe blow to Democrats arguing that the nomination should be shelved amid multiple allegations of sexual misconduct by Kavanaugh. Flake, who will retire from the Senate in January and who has spent his final months denouncing President Donald Trump, seemed like a gettable vote against Kavanaugh.
Senator Chris Coons, a Delaware Democrat who considers Flake a personal friend from joint legislative efforts and overseas travel, was told the news by a reporter. He let an expletive slip, and choked up.
"We each make choices for our own reason," he said. "I'm struggling, sorry."
He had a right to be surprised. Most Republicans appeared ecstatic on Thursday after Kavanaugh angrily denounced the sexual assault accusations leveled against him as a partisan hit job. Flake's response was different, with a measured call for both sides to de-escalate the accusatory and charged rhetoric that had gripped the committee room. He asked no questions, and refused to tip his hand on how he might vote.
That night, Flake met with a group of other senators seen as likely to decide the fate of Kavanaugh's nomination. Republicans Susan Collins of Maine, Lisa Murkowski of Alaska, and Democrat Joe Manchin of West Virginia huddled. But they seemed to make little progress on the irreconcilable testimonies of California college professor Christine Blasey Ford -- who told lawmakers with "100 percent" certainty that Kavanaugh had assaulted her when they were teenagers -- and the federal judge who unequivocally denied any such incident.
"There's no decisions made on anything I can assure you of that," Manchin said Thursday.
By Friday morning, Flake was in a Senate elevator. He'd just issued his statement. Two women cornered him in the elevator, demanding that he reconsider.
For more than three minutes -- captured on television -- the pair retold their own stories of abuse and said Flake's vote was tantamount to ignoring their trauma. The senator stood quietly, glancing at the floor with his hands in his pockets.
"Look at me and tell me that it doesn't matter what happened to me," said Maria Gallagher, one of the women.
As he arrived at the committee meeting, Flake saw Democrats across the dais who appeared angry and resigned to their defeat.
As debate turned to the vote itself, Democrats' questions were simple: Why had Republicans refused to call Kavanaugh's high school friends to testify? Why wouldn't an FBI investigation -- like the one into Anita Hill's accusations against Clarence Thomas, when he was a Supreme Court nominee -- provide more clarity for lawmakers weighing a lifetime appointment? And how could Republicans credibly say they had taken allegations of sexual assault seriously, but vote on a nomination just 24 hours after Ford's testimony.
Senators Kamala Harris of California and Cory Booker of New Jersey, two Democrats thought to have presidential ambitions, sat silently shaking their heads. Harris and some others then walked out of the chamber in protest as Judiciary Committee Chairman Chuck Grassley of Iowa sought to set up a final committee vote.
"They're refusing to vote because this is so unfair," said Amy Klobuchar, a Minnesota Democrat on the panel.
As the proceedings continued, Flake rose gingerly from his seat, headed toward the Democrats. He waved to Coons, who had just made an impassioned plea for a temporary delay for an FBI inquiry, to follow him into an anteroom.
What followed was a difficult discussion that could change the course of the Supreme Court.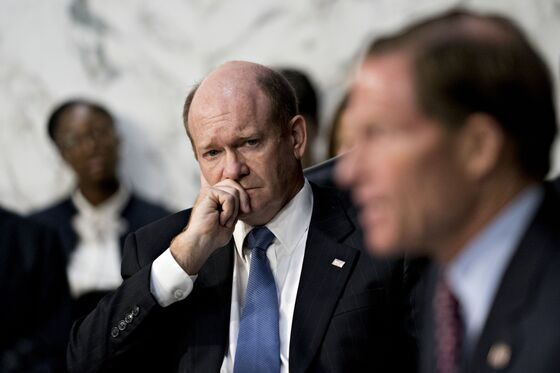 Coons said he told Flake, "I respect you as my friend, but I'm having difficulty with your vote."
"It became a much broader conversation," he added.
Flake said he wanted to send a signal to Americans that the Senate could work together, but also balance fairness to both Ford and Kavanaugh. Coons said he would publicly support him in a call for an extended but limited investigation.
As the lawmakers continued to talk, the fact that something was up became quickly apparent in the committee room.
Lindsey Graham, the South Carolina Republican who is a top Kavanaugh backer, appeared angry as it began to look like plans for a vote could be put off.
Graham said later that Flake "was trying to be fair" in the face of an "emotional decision."
As lawmakers chatted outside the view of the cameras, the planned 1:30 p.m. vote time came and went. Grassley sat stonefaced, with Orrin Hatch of Utah -- the longest serving Republican in Senate history -- grimacing to his side. Eventually, Grassley stood up and walked back to investigate.
As the meeting neared 30 minutes and cable networks broke into live coverage, word trickled out from lawmakers to aides and reporters: a deal had been struck. Flake would ask for a delay on Kavanaugh's final nomination and request a limited FBI investigation into the allegations. He hoped Democrats would drop their claims that he and other Republicans were ignoring allegations of misconduct.
The senators filed back to their seats, and Grassley gaveled in the proceedings. He turned to Flake, asking him to explain his position.
"We ought to do what we can to make sure that we do all due diligence with a nomination this important," Flake said. He said Democrats were "justifiably uncomfortable" and he hoped the proposal might heal a country being "ripped apart."
By day's end, Senate Majority Leader Mitch McConnell of Kentucky agreed to the plan and the final pieces fell into place when Trump agreed to ask the FBI to investigate.
"I've ordered the FBI to conduct a supplemental investigation to update Judge Kavanaugh's file," the president said in a statement. "As the Senate has requested, this update must be limited in scope and completed in less than one week."
Flake later told reporters there was no one event that persuaded him to force the FBI probe. "I can't pinpoint anything," he said. "But emails and calls from friends and family and associates and others, you know, who talked about what this has meant to them."
Trump, in a tweet on Friday night, said of the new inquiry: "Just started, tonight, our 7th FBI investigation of Judge Brett Kavanaugh. He will someday be recognized as a truly great Justice of The United States Supreme Court!"