In Ireland, 'Catastrophic' May Defeat Fuels Brexit Gamble Fears
(Bloomberg) -- Sorcha McAnespy uses one word to describe the defeat inflicted on Theresa May's Brexit deal: "catastrophic."
McAnespy lives close to the Irish border in Omagh, where 29 people died in 1998 in the worst attack in 35 years of violence in Northern Ireland, and May's failure to get the deal through is hitting people like her hard. May's plan was defeated because of the so-called backstop to keep the Irish border free of checkpoints in a deal that anti-EU members of her Tory Party feared would permanently trap the U.K. in the bloc's customs union.
"The oxymoronic thing about this is that all sides have indicated that they do not want a hard border, but we are as far as ever from a workable solution," said McAnespy, 39, an independent councilor in the area.
McAnespy sums up the growing nervousness on the island of Ireland about the unfolding Brexit drama in London. For some, concern is mounting that the EU's strategy, shaped by Ireland, could ultimately force the U.K. into exiting the bloc without a deal -- something that would likely lead to a return of border infrastructure and huge disruption to the vast trade flowing between the U.K. and Ireland.
"The prospect of a crash out Brexit is a serious threat, which would be catastrophic for farmers on the two islands and hugely damaging to the interests of consumers," said Joe Healy, president of the Irish Farmers Association. "Dicing with a cliff-edge Brexit is madness."
Healy spoke as he prepared to fly to Brussels to seek emergency assistance for Irish farmers, and at least some in the border region are urging the EU and Ireland to compromise to avoid a no-deal Brexit.
"Europe, I feel, has to take notice and play their part also if they really want a deal to succeed," said Alastair Patterson, 46, from Castlederg in Tyrone. "No compromise from Europe will also be a major failure on their part."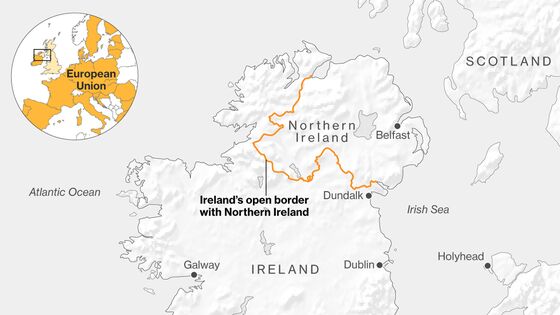 For now, there's little sign Ireland is preparing to change course. On Wednesday, Irish Foreign Minister Simon Coveney said it's "time to hold our nerve," adding significant changes to the exit deal aren't possible -- his boss, Prime Minister Leo Varadkar, told parliament he didn't see much room to renegotiate the deal.
At least two reasons underpin the government's gamble. First, diluting the backstop would risk shattering the political consensus which has underpinned its strategy, potentially unleashing forces that could even lead to the end of Leo Varadkar's minority administration.
Second, before Tuesday's vote, Irish officials acknowledged three outcomes are possible: the agreement would be passed; a no-deal Brexit; and the U.K. would pivot toward a much softer Brexit or even abandon the project entirely. While the first possibility is now remote and the chances of a no-deal might be rising, the third prospect remains in play.
Back in Omagh, McAnespy dreads the prospect of a return to border infrastructure.
"Having lived through 20 years of a hard border and the subsequent 20 years without, I can feel the collective psyche of Northern Irish people being attacked," said McAnespy. "Quite frankly, we have been through enough turmoil."