In His Hometown, Putin Gets Surprise Grilling...And Gives Gifts
(Bloomberg) -- Vladimir Putin doesn't usually get much chance to meet ordinary Russians, and when he does, the interactions are often tightly scripted. But on a visit to St. Petersburg this week, he struggled to respond as one local resident grilled him about the failure of his economic policies.
"Is it possible to live on 10,800 rubles ($168) a month?" was Zinaida Belikova's blunt opening question. That's the monthly total of her government pension and a special 800-ruble benefit she gets because of the brain edema that's left her struggling to find a job.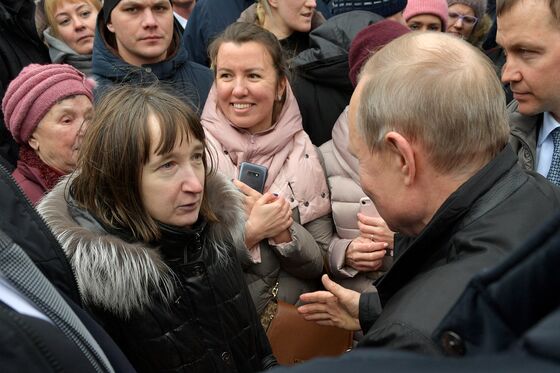 The president tried to deflect the question, but she persisted. "Your salary is probably not 10,800, I suspect."
Putin, who's ruled Russia for the last 20 years and is laying plans to remain in power for years to come, tried to be reassuring. "Of course it's impossible to live on that little money. The government is doing everything it can."
Belikova didn't look convinced, but that didn't stop her from posing for a photo with the Russian leader before he headed off in his limousine.
"It's not his fault, it's his team that doesn't want to help the handicapped, to help people who need it," she said when reached by telephone the next day. "We're probably like some sort of garbage for them, not people."
Hers is a common view among Russians, helping explain why Putin's poll ratings remain buoyant despite more than five years of stagnant living standards. As he announced a cabinet shakeup last month, he pledged yet again to boost incomes, especially for the poorest. The Kremlin posted a video of Putin's back-and-forth on its website, though it got little attention in state media.
Belikova, 47, said she voted for Putin in the last elections two years ago. "He should stay on because there will be nothing better," she said. "A new ruler would be worse."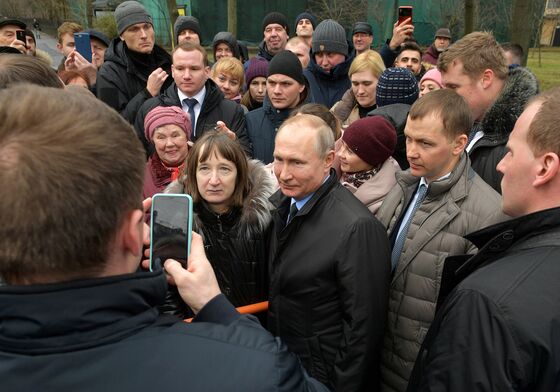 She said she lives with her retired mother, 72, and unemployed son, 22, on about 40,000 rubles a month. She went to see the president out of curiosity when she heard he would be in the neighborhood for a wreath-laying ceremony near the handicapped-training center where she's taking accounting classes.
"I can't afford a lot of things," she said, and relies on buckwheat and milk as key dietary staples. "I want to buy a new purse, but I can't. If I want a pretty skirt, I buy it second-hand."
But a day later, her mood was more upbeat.
"Putin's a good boy! A very good person," she said.
Why the change? After local website mr-7.ru reported that she'd been contacted by reporters but not officials, city authorities called to tell her that they were going to provide her with a food basket, renovate her apartment and give her a 20,000-ruble-a-month job.
By Friday afternoon, she said, she'd received the basket. It containing buckwheat, cooking oil and butter.