Imran Khan's Answer to Pakistan's Ailing Exports: More Subsidies
(Bloomberg) -- Pakistan's government expects that a move to reduce utility bills for companies selling abroad will boost exports the most in six years in its bid to support industries that have long lagged behind regional competitors.
The country's exports can increase as much as 30 percent in the next three years through further subsidies, Zafar Iqbal Sarwar, an industrialist who is charge of the government's policies for the textile industry, said in an interview in Faisalabad. Pakistan will also import three million bales of cotton duty-free to meet industry demands, he said.
Pakistan is in the midst of its latest balance-of-payments crisis and has long lost out to countries such as Vietnam and Bangladesh, which ship textiles and other key competing goods. Prime Minister Imran Khan has pledged to boost exports as the way to solve the nation's perennial funding gaps. His government is currently negotiating Pakistan's 13th International Monetary Fund bailout since the late 1980s and has sought financial support from China and Saudi Arabia.
"Until we don't boost our exports, we can't control our trade deficit, foreign exchange reserves or currency," Sarwar said at his textile factory in Faisalabad. The government may also grant incentives to import machinery for mixed-fabric products like sportswear -- a growing market in Pakistan, he said.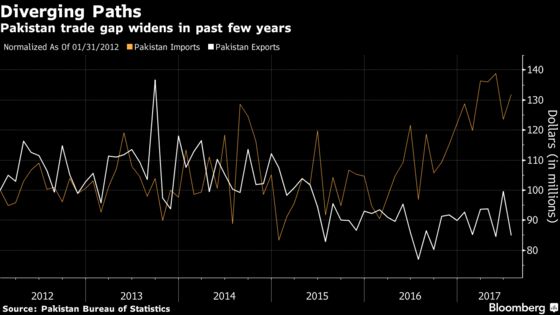 Yet there's no one silver bullet for Pakistan's exporting issues. Factory owners in South Asia's second-largest economy have long complained that they receive little government assistance compared to competing countries. They also point to an overvalued currency, chronic energy shortages as well as security concerns deterring buyers and investors.
Critics say however that Pakistan's key exporters are already given favorable incentives and tax breaks and often take a laid-back approach that lacks innovation or diversification, while lobbying the government for bailouts.
The government is also aware that many discounted loans for exports have been used by industrialists to become land developers in the past, said Sawar, who has raised the prospect of increased monitoring of such industrialists.
The measures announced last month to reduce utility prices caused confusion as well. Industrialists boosted production anticipating to get a reduced bill with a lower tariff but they didn't and got a notification that it will be adjusted -- adding to the billions of rupees refunds already stuck with the government.
"They are not helping with this," said Shaiq Jawed, a managing director at JK Group that supplies hotel chains including Hilton Worldwide Holdings Inc. and Pullman. "We can increase exports, but the government needs to support us just like everywhere else in the world."