Imran Khan Close to Forming Pakistan Coalition, Cabinet Decided
(Bloomberg) -- Pakistan's Imran Khan is close to forming a coalition government and has decided his cabinet, which will name former Engro Corp. head Asad Umar as finance minister.
The Pakistan Tehreek-e-Insaf, or Movement for Justice, has "near" 135 seats right now, Arif Alvi, a senior PTI leader and lawmaker-elect, said by phone on Monday. The PTI is currently negotiating with smaller parties, including the Muttahida Qaumi Movement, Pakistan Muslim League-Q, Grand Democratic Alliance and independents to form a majority group among the 272-elected seats in the lower chamber of parliament, he said. A government will be formed between Aug. 13 and 18, according to Alvi.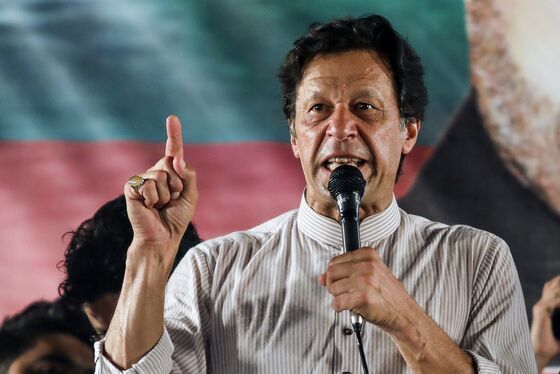 Khan's party is attempting to consolidate a stronger than expected showing during last week's election, which handed victory to the 65-year-old ex-cricket captain turned anti-corruption crusader. While Khan's pledge to eradicate graft appealed to voters, his campaign was characterized by complaints by journalists, politicians and activists of so-called pre-poll rigging by the military, which has dismissed the allegations. Eight rival parties rejected the results claiming massed rigging, but said they will take opposition seats.
Beyond forming a government, Khan's most pressing concern is addressing Pakistan's rapidly deteriorating finances and many investors and analysts expect a bailout from China or the International Monetary Fund is inevitable. Alvi said that the PTI hasn't approached the IMF and "all options are on the table," reiterating a stance that Umar, the incoming finance minister, told Bloomberg News on Saturday.
The PTI "will see the numbers first once we are in the government," said Alvi.
Khan may struggle to implement his plans to create an "Islamic welfare state" in Pakistan. The nation's currency -- the worst performer in Asia -- has plunged 15 percent since December. The central bank has raised interest rates, the current-account gap has widened by 43 percent in the last fiscal year and foreign-exchange reserves are dropping. Umar said in an interview in May that the nation is close to bankruptcy and whoever comes to power will need a bailout.
The PTI may also face lingering questions over its legitimacy. Michael Gahler, the chief observer of the European Union Election Observation Mission in Pakistan, said on Friday the election was negatively affected by the political environment amid media restrictions and a problematic vote count. There were systemic efforts to undermine Khan's main rival party and the conduct of the election was not as good as the previous one in 2013, he said.
The U.S. and U.K. also issued statements that voiced concern over terrorist-linked parties that ran for office and the pressure Pakistani media faced in the run-up to the vote. Khan in his victory speech last week pledged to probe the rigging allegations and complaints.