Impeachment Vote Dilemma Traps Senate Moderates of Both Parties
(Bloomberg) -- The biggest mystery left in Donald Trump's inevitable impeachment acquittal is whether any Democrats will join Senate Republicans to give him a bipartisan vote to clear him of the House's charges.
Democratic senators who represent Trump-leaning states have to decide whether they will buck their party on what could be the most important vote before the November elections and risk alienating voters who like the president.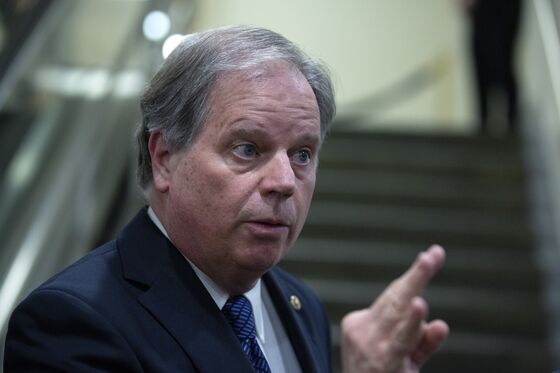 The most vulnerable is Senator Doug Jones, who is up for re-election this year in Alabama. Jones said he won't announce how he'll vote ahead of time, even though the Senate floor will be open until the final vote at 4 p.m. Wednesday for senators to explain their thoughts about the trial debate over the past two weeks.
While some Republicans also haven't said how they plan to vote, Alaska Senator Lisa Murkowski took to the floor Monday night to say that she "cannot vote to convict," even though she called Trump's actions "shameful and wrong." She criticized the House for building its case on a "rotted foundation" of partisanship and arbitrary deadlines, and she said she'd leave it to voters to decide Trump's fate in the fall.
This declaration from a Republican who was at one time considered a vote within reach for Democrats demonstrates how unlikely it is that any GOP senator will vote against the party, which controls the 100-member chamber. Trump's swift wrath at any perceived disloyalty has increased the political stakes for independently minded Republicans -- and helped cement a united GOP vote against his Dec. 18 impeachment in the House.
House Republicans last year attracted at least two Democrats to vote against the articles charging Trump with abuse of power and obstruction of Congress, though one later switched his party affiliation. Still, it was enough to claim bipartisan opposition to House Democrats' case.
Now just one Senate Democrat voting to acquit Trump would allow the president to go into his re-election campaign claiming bipartisan vindication in his trial as well. Since it would take a two-thirds majority of the Senate to remove him from office, his eventual acquittal was never seriously in doubt.
Democratic Senator Gary Peters -- who is seeking a second term in Michigan, a state narrowly won by Trump in 2016 -- said Tuesday he will vote to convict the president.
"It is clear that the president betrayed the trust of the American public," Peters said. "I will faithfully uphold my oath and vote" to remove Trump, he said.
Beyond Jones, the possibility of a bipartisan acquittal rests partly on the votes on the two articles by Democrats like West Virginia Senator Joe Manchin, who won't have to run again until 2024. He used his floor speech Monday to say he is still undecided, even as he criticized his Senate colleagues for not seeking more evidence in the trial.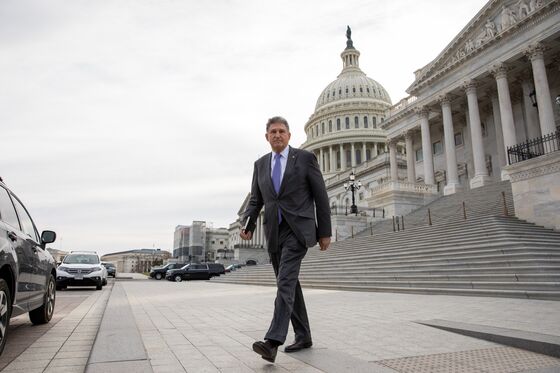 "History will judge the Senate harshly for failing in its constitutional duty to try this case and do the impartial justice to defend the Constitution and to protect our democracy," Manchin said. "I am truly struggling with this decision and will come to a conclusion reluctantly as voting whether or not to remove a sitting president is the most consequential decision that I or any U.S. senator will ever face."
There are other Democrats who also remain undecided, like Kyrsten Sinema of Arizona.
On the GOP side, the incumbent who faces the most immediate political risk is Susan Collins, who is up for re-election in Maine this year. She was one of two Republicans who joined Democrats in last week's vote to seek additional evidence in the Senate trial, and she hasn't yet said how she'll vote.
Collins already faces anger from Democrats for backing Trump's 2017 tax overhaul and Brett Kavanaugh's confirmation to the Supreme Court. She also has been criticized by Trump voters for her fairly frequent expressions of concern about the president's conduct and key vote against repealing much of the Affordable Care Act.
The Maine senator probably won't vote to convict Trump, since it would certainly spark a primary challenge, but like Murkowski, she could use a floor speech to assail the president's behavior.
Two decades ago, Collins voted not-guilty in the impeachment of President Bill Clinton, but harshly criticized his conduct.
Utah Senator Mitt Romney was the other Republican to vote with Collins in favor of calling new witnesses, and he also hasn't said how he plans to vote on the final verdict.
It was this kind of Republican -- troubled by Trump's conduct, but not committed to voting against him -- that was the object of Manchin's suggestion Monday that the Senate could take up a censure resolution. He said he sees "no path to the 67 votes" required to impeach President Trump, but he believed that "a bipartisan majority of this body would vote to censure President Trump for his actions."
While a censure resolution is unlikely to pass or even get considered by the full chamber, signing on to one would give some senators a way to express a milder disapproval of Trump's behavior.
"Censure would allow this body to unite across party lines and as an equal branch of government to formally denounce the president's actions and hold him accountable," Manchin said.
Senate speeches are continuing Tuesday until Trump's State of the Union address at 9 p.m. in the very chamber where the House impeached him on Dec. 18. The Senate floor will still be open Wednesday morning for lawmakers to explain their votes ahead of the 4 p.m. vote on the final verdict.
The seven impeachment prosecutors, led by Intelligence Chairman Adam Schiff, used evidence gathered by House committees since September to try to prove allegations that Trump pressured Ukraine to announce corruption investigations that would benefit him politically.
Trump's defense team argued that the president's actions don't meet the constitutional standard for impeachment. Both sides presented their closing arguments on Monday.