Iceland's Prime Minister Joins Women's Equal Pay Walk-Out
(Bloomberg) -- Prime Minister Katrin Jakobsdottir was among scores of Icelandic women who walked out of their workplaces on Wednesday to protest against wage inequality and sexual harassment.
The demonstration, organized by various unions and rights' groups, saw women leave office desks and factory floors at precisely 2:55 p.m. The time was chosen because it's equivalent to them working for 74 percent of a standard 9-5 day, reflecting the fact that women earn on average 26 percent less than men.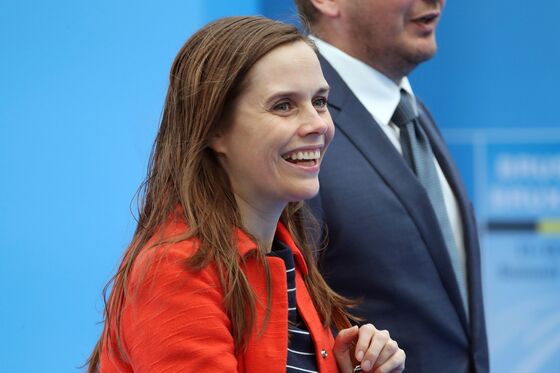 Iceland is a trailblazer when it comes to gender equality. It was the first country in the world to democratically elect a female head of state, and in January introduced a landmark law forcing companies to demonstrate that they do not pay women less than men for doing the same job.
Yet women on the north Atlantic island still earn significantly less than men on average, according to Statistics Iceland data. Moreover, the implementation of the equal pay legislation has proven more complex than initially anticipated, with the deadline for large companies to comply slipping by a year. Organizers also referenced the #MeToo movement, calling on businesses and on Jakobsdottir's government to "change how they deal with misogyny, harassment and violence in the workplace."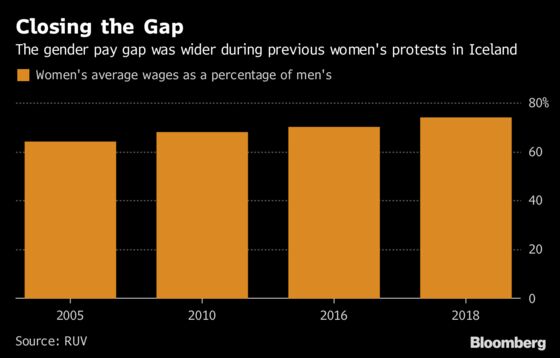 This is the sixth time Icelandic women have enacted a similar protest. The first of its kind, in 1975, provided the initial push for the progress achieved to date.
Writing in local newspaper Frettabladid ahead of Wednesday's protest, Jakobsdottir said that while "much has been achieved since 1975, Iceland has still "not been successful in eliminating the wage gap between men and women, and women in addition continue to take on the biggest proportion of unpaid work, such as childcare and housework."