Hungary's Orban Vows Closer Salvini Ties But Keeps Options Open
(Bloomberg) -- Two of Europe's most high-profile populist leaders met to explore cooperation, raising the chance of a widening nationalist alliance inside the European parliament after elections this month.
Hungarian Prime Minister Viktor Orban said he'd cooperate "visibly, earnestly and openly' with Italian Deputy Premier Matteo Salvini, who's trying to build a group of like-minded nationalists within the European Union. Speaking alongside Orban Thursday in Budapest, Salvini said a bloc of far-right parties stood a chance of winning a majority.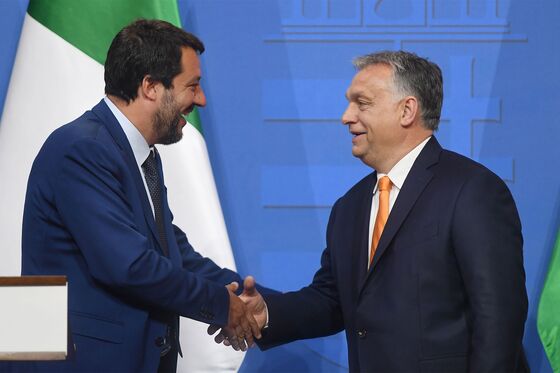 With Orban's place in mainstream European politics in limbo, the meeting was an opportunity for Salvini to try to recruit the self-styled "illiberal" leader, whose Fidesz party has been suspended by the center-right European People's Party. Europe's biggest political group cited the erosion of the rule of law under Orban's nearly decade-long rule.
While Orban says he'll only decide on who he'll work with after the election, he conceded that cooperation with the centrist EPP would prove "difficult."
The feeling appeared mutual. Markus Soeder, head of the junior coalition partner of German Chancellor Angela Merkel's government and historically a close Fidesz ally within the EPP, told Suddeutsche Zeitung that the Salvini meeting sent the "wrong signal" and cooperation with the far-right was a "no-go."
"It's a symbolic meeting and Orban is sending the message that he's got other options beyond the EPP," Peter Kreko, executive director of Political Capital, a think-tank in Budapest, said before the meeting. "At the same time, it's in Orban's interest to stay in the center-right group, which has been instrumental in allowing him to build a hybrid, increasingly authoritarian regime in the heart of the EU."
Orban's potential ouster from the EPP could lend momentum to efforts to defend liberal democracy, including proposals to tie billions of euros in EU aid -- of which Hungary is a large beneficiary -- to rule-of-law standards. Negotiations for the next seven-year EU budget will kick into high gear after the elections.
Orban has indicated he'd leave the EPP if the group moves toward the left after the vote. Projections show that to be the base case, with a weakened center-right group needing to join forces in a wider pro-EU bloc, including possibly the Liberals or Greens, to retain a majority. Potential partners are among Orban's fiercest critics, boosting the chances that the EPP may need to expel Fidesz to form a centrist coalition.
Even then, it's far from clear that Orban would play second-fiddle to Salvini in a new nationalist group, and there are signs he's taking the initiative. Orban is meeting the leader of Austria's far-right Freedom Party, Vice Chancellor Heinz-Christian Strache, next week in Budapest, the Nepszava newspaper reported. And he's is in contact with Poland's ruling PiS party, a traditional ally that's deployed many of his policies and has also so far shunned Salvini's alliance of nationalists.
"Let's see what the results are" of the EU elections "and then I'd like to decide with the greatest freedom which formation to join," Orban said.