Optimism on EU Budget Deal Clouded by Hungarian, Polish Demands
(Bloomberg) -- Hungary and Poland voiced optimism that a deal to unblock the European Union's $2.2 trillion budget and stimulus plan is within reach, even as they reiterated demands that the bloc has already rejected.
The two countries have been discussing a political compromise that would clarify how a rule-of-law mechanism would be attached to the spending plan. They've threatened to veto the package over their opposition to funds being tied to democratic standards that have been at the heart of repeated clashes with Brussels.
Other EU leaders say they'll cut the pair out of coronavirus-relief financing with a workaround if they don't drop their opposition before a summit on Thursday. The two sides are "one centimeter" away from a deal, Hungarian Prime Minister Viktor Orban said in an interview with the Polsat broadcaster Tuesday during a visit to Warsaw, without elaborating.
"We have a good chance to close this whole issue this week during the summit," Orban said. "We can reach an agreement which would be a great success."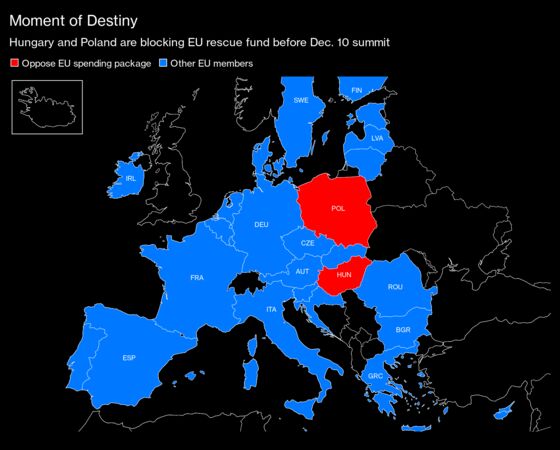 The behind-the-scenes talks are seeking a face-saving way out of the impasse. There's a political risk that Brussels underestimates how far Hungary and Poland are willing to push. There's also the danger that in continuing to ignore an EU ultimatum, the holdouts overplay their hand.
Commenting later Tuesday, Polish government spokesman Piotr Muller highlighted the danger that the deadlock won't be broken. He warned that if the EU doesn't change its current position, "then the chances for a deal are small." In that case, there would need to be another summit in January.
He, too, said Poland is optimistic, but stressed that "we need clear guidelines to separate the rule of law from the budget, so nobody has any doubts about this."
Neither Orban nor Muller gave details on what a potential resolution may entail. The spending package in its current form can't be passed without unanimity among the bloc's 27 members.
As the EU reels from the economic impact of the virus, net contributors to the spending plan including The Netherlands worry the money will be used to fund corruption by politicians who've reworked their constitutions, courts and other institutions to tighten their hold on power. Hungary and Poland are both under EU probes for democratic backsliding, exposing them to potentially losing out under the new mechanism.
If they insist on their veto, the alternative is a 'Plan B' that other EU leaders, led by German Chancellor Angela Merkel, are willing to unleash to effectively direct stimulus funds to the other 25 member states, excluding Hungary and Poland.
While the two nations can block the EU's new increased budget for 2021-2027, they can't stop the rule-of-law conditionality from coming into force.
A veto would leave the EU operating under emergency monthly and then annual budgets as of next year that would be significantly smaller than agreed on last summer.
Given the shortfall, the emergency budgets would prioritize payments to others, leaving Hungary and Poland last in line for the reduced funds, according to an EU diplomat familiar with the ongoing deliberations.