Hungary's Orban Doubles Down on Anti-EU Campaign With New Target
(Bloomberg) -- Hungarian Prime Minister Viktor Orban plans to target European Commission Vice President Frans Timmermans in the next phase of a controversial anti-immigration campaign that currently features Commission President Jean-Claude Juncker and billionaire George Soros.
"You will see an additional actor on the posters: Mr. Timmermans," Orban said in an interview with Welt am Sonntag. He called critics from the European People's Party "useful idiots" for trying to split conservative ranks and serving the interests of the left.
The Hungarian government last month started running billboards depicting Juncker as doing the bidding of Hungarian-born Soros, a donor to liberal causes and a frequent foil in Fidesz's anti-immigration rhetoric. The campaign is set to end as planned on March 15, government spokesman Zoltan Kovacs said in a Twitter post on Saturday.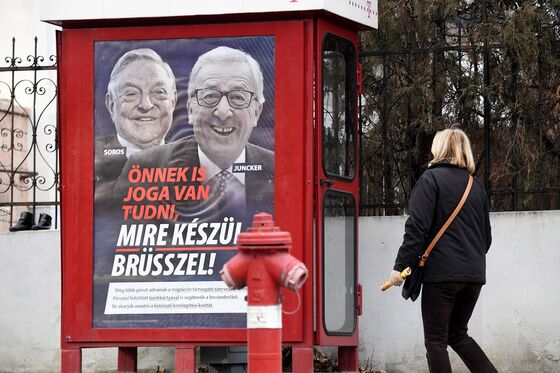 While Orban has defended the posters as being "based on facts," the campaign was sharply criticized by some European leaders, including Timmermans, who called it "almost Monty Python-esque if it weren't so serious."
Signaling a greater determination to confront populist forces in the run-up to the European Union's legislative elections in May, the EU Christian Democrats are set to discuss expelling or suspending Orban's Fidesz party from their ranks after enough petitions were gathered for such a move.
In an interview published by Der Spiegel on Friday, Manfred Weber -- the EPP's candidate to succeed Juncker -- called on Orban to end his anti-EU campaign and apologize, saying "all options are on the table." But in the Welt interview, Orban backed Weber as representing a break from Juncker's policies.
"If the EPP wants to be elected in central Europe, then it has to say: Mr. Juncker is the past. Mr. Weber is the future," Orban said, adding that he plans to support his candidacy. "The name Weber should stand for change, which Europe urgently needs."