Orban Taps Conservative Minister as First Woman President
(Bloomberg) -- Prime Minister Viktor Orban pledged to nominate a minister from his government known for defending anti-LGBTQ policies as Hungary's first female president, locking another loyalist into an influential position before next year's hotly contested elections.
Orban said he would name Family Affairs Minister Katalin Novak to replace Janos Ader when his five-year term expires next year. The largely ceremonial role is chosen by parliament, which Orban's ruling Fidesz party controls with a two-thirds majority.
The choice of Novak underscores one of Orban's main lines of attack as he tries to fend off a challenge by the united opposition to win a fourth consecutive term in power. Along with unprecedented pre-election spending, the Hungarian leader is pursuing a campaign promoting traditional family values and a crackdown on LGBTQ rights to win votes among conservative Hungarians.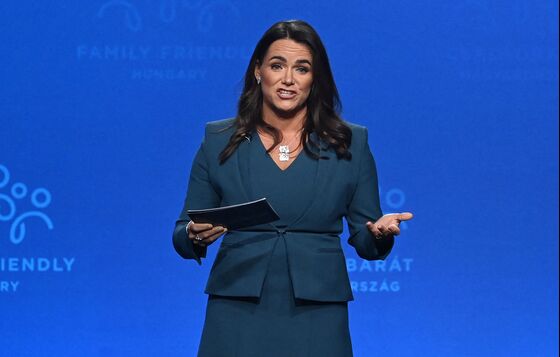 In July, Orban's government passed a law criminalizing the depiction of LGBTQ issues in materials targeted at minors, while also calling for a referendum on the legislation to be held alongside the parliamentary elections expected in April. The law triggered condemnation from the European Union, which is threatening to cut Hungary off from billion dollars in aid for not adhering to the bloc's democratic standards.
Novak has championed the government' generous handouts to families and denounced non-traditional gender roles and defended banning same-sex couples from adopting children.
Family and child policy will remain in her focus when she succeeds Ader, who has concentrated on the environment, Novak told state media.
To be able to hand the Earth "to our children and grand-children in a better shape than we received it," she said, "we first need to have children and grand-children in the first place."
A year ago, she appeared in a video produced by a pro-government media group saying women shouldn't all strive to be successful, should accept lower pay than men and shouldn't give up the privileges of motherhood for the "misinterpreted fight for emancipation."
The president's role includes designating a prime minister after elections, ratifying or vetoing laws and naming judges and the national prosecutor.
Orban, who the EU has accused of eroding checks and balances and the rule of law, has moved to secure his influence even if he doesn't win next year's vote by entrenching allies in institutions including the media regulator, the Supreme Court and the head of the nuclear agency, often for terms extending to 2030. Last month, Fidesz approved a law requiring the approval of two-thirds of parliament to fire the chief prosecutor.
Orban also said that Hungary would defy a ruling by the European Court of Justice by doing "nothing" to change a border policing regime under which the government expels asylum seekers without hearing their cases. 
The government is brandishing a Hungarian constitutional court ruling as permission to ignore judicial decisions made at the EU level.
"It doesn't matter what the European court ruled, it does not matter, Hungary will still have to defend its borders," Orban said.