Hungary's Eurobond Plan Suggests EU Dispute Will Drag On
(Bloomberg) -- Hungary plans to offer a range of dollar and euro bonds to shore up its budget as it's facing a potential delay in accessing European Union funds because of a feud with the bloc over democratic values.
The country may sell 10-year and 30-year bonds in dollars, as well as seven-year and/or 20-year bonds in euros, according to a person familiar with the matter, who asked not to be identified because they're not authorized to speak about it. Hungary's debt management agency on Monday increased its cap for 2021 foreign-currency borrowing to 4.5 billion euros ($5.3 billion) from 644 billion forint ($2.2 billion).
That comes as Hungary has yet to access billions of euros in EU pandemic aid because of Prime Minister Viktor Orban's stand-off with the bloc's executive. The EU says it's concerned about Hungary's spotty record in fighting corruption, and has delayed the assessment of Hungary's pandemic plan by two months until the end of September. The government in Budapest says the anti-LGBTQ law, which forms part of Orban's re-election campaign, is the real reason for the delay. 
Hungary's bond plan "raises the probability that an agreement with the EU won't be reached until Sept. 30," said David Nemeth, Budapest-based economist at KBC Group NV. "The size of the issuance suggests a deal may not be had until elections" next year.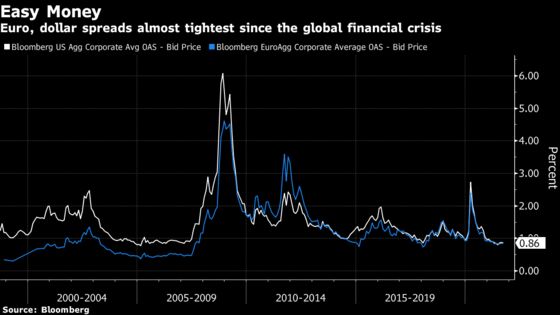 It's a favorable time to sell bonds as spreads on dollar and euro debt hover near the lowest levels in more than a decade, with the world's largest central banks continuing to offer market support. Hungarian hard-currency bonds have underperformed emerging-market peers this year, losing 2% in dollar terms as the broad market rose 0.1%, according to a Bloomberg index.
"The plan to issue several bonds, in both euros and dollars at once, is quite bold, but considering the state of the market, the issuance will be successful," said Anton Hauser, a Vienna-based fund manager at Erste Asset Management.
Hungary is joining Turkey and Indonesia in selling dollar bonds in a busy start to the week for emerging-market sovereign issuance.
The country mandated BNP Paribas SA, Citigroup Inc., Goldman Sachs Group Inc. and JPMorgan Chase & Co. to arrange the bond sales. It last tapped the euro market in November, and hasn't sold dollar bonds since 2014.