Hungary Inflation Data Pours Cold Water on Central Bank Bet
Hungarian consumer prices continued to grow at the fastest pace in almost 14 years in December, keeping up pressure on the central bank and the government, which have scrambled to ease the burden on consumers and businesses.
The inflation rate was 7.4% compared with a year earlier, matching the level in November and higher than the 7.2% median estimate in a Bloomberg survey, the statistics office reported on Friday. Prices rose 0.3% from November. Core inflation, which strips out volatile energy and food prices, surged to 6.3%, the highest in 20 years.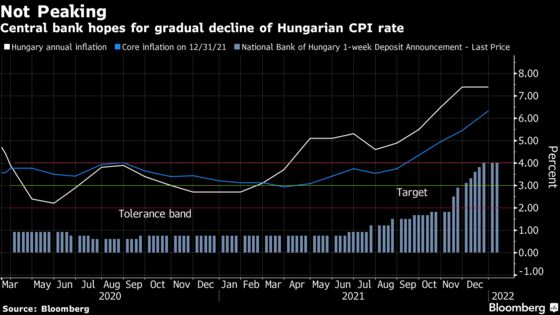 While the central bank predicted that price growth would peak in November, core inflation trends suggest a bleaker picture, with areas from services to durable consumer goods now also fueling price growth, according to ING Bank economist Peter Virovacz.
He said the inflation rate may rise further in January and that the central bank, which has delivered one of Europe's most aggressive monetary-tightening campaigns since November, would be forced to boost interest rates further.
"Risks continue to point upward," Virovacz said by email. "We expect the central bank to continue its rate-hike cycle based on today's data."
Spiraling inflation has become a campaign theme ahead of the April 3 general election, pushing Prime Minister Viktor Orban to freeze mortgage rates and impose price caps on fuel prices, staple foods and household utilities.
While the government has said the measures may reduce headline inflation by as much as 2.5 percentage points, that's unlikely, Virovacz said. 
The central bank has delivered a cumulative 220 basis points in rate-hikes since November. It has kept the effective base rate unchanged for the past two weeks after the forint rose 4% year-to-date, outperforming all currencies in the period.
The key rate, which is currently the one-week deposit rate, may rise by 75 basis points to 4.75% in the first half of this year, Virovacz said.