Hungary Fines Store Over LGBTQ-Related Children's Book
(Bloomberg) -- Hungary fined a company that sold a children's book featuring families with same-sex parents, as authorities intensify a campaign targeting LGBTQ content that's put the country on a collision course with the European Union.
A regional government authority issued a 250,000 forint ($830) fine, saying the publisher should have warned parents of the content on the cover. The penalty was made public a day before the European Parliament on Wednesday discussed Hungary's LGBTQ crackdown, with lawmakers urging funding cuts for potential violations of EU values.
"The company that distributes the book didn't pay attention to the law that requires a special label for content that differs from the mainstream," Richard Tarnai, the head of the government agency in Pest county, said in a HirTV interview. "It broke the law just by having the book there among the other children's books."
Hungary's parliament last month passed a law outlawing content for minors that are deemed to "promote homosexuality." A majority of EU heads of government signed a letter in protest, stating that the legislation was a "flagrant form of discrimination."
Last year, Hungary effectively banned same-sex partners from adopting children and enshrined in the constitution that marriage is between a man and a woman. The restrictions are widely seen as an attempt to fire up conservative voters ahead of next year's election, which polls show will be the most closely fought since Orban's return to power over a decade ago.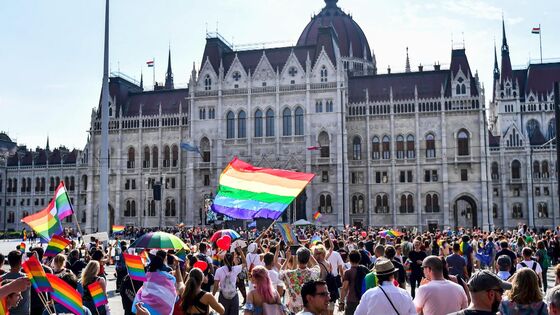 Children's book have been targeted before. The Pest county government authority, which also oversees Budapest, in 2019 chided the publisher of another collection of fairy tales featuring LGBTQ content, also for failing to display a parental advisory. It fined Coca-Cola the same year for running ads promoting the acceptance of same-sex couples.
The publisher of the children's book that was targeted this week, the Foundation for Rainbow Families, said "rainbow families are completely normal, average families" and deserved a book that spoke to them.
"We continue to believe that every family deserves fairy tales and every little child deserves the chance to recognize himself or his parents," the foundation said in a statement.