Hungary Doctors Rebuke Easing Plan in Worst Virus Hotspot
(Bloomberg) -- Doctors in Hungary, currently the world's deadliest nation for Covid-19, rebuked the government's plan to ease virus-related curbs next week.
Hungary has had an average of 175.3 virus deaths per million people in the past seven days and coronavirus-related fatalities recorded since the start of the pandemic exceeded 20,000, according to data compiled by Bloomberg.
Although the government on Monday extended lockdown measures until April 8, Prime Minister Viktor Orban remains keen to relax curbs. He's said that most stores may reopen as soon as next week and that a curfew may also be shortened to accommodate extended opening hours.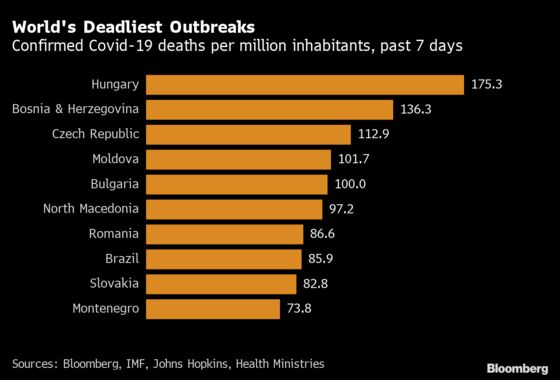 "Doctors find it incomprehensible how there can be communication about a re-opening so soon just when we should be talking about tightening and how to improve adherence to existing curbs," Judit Toth, a vice president of the Hungarian Labor Union of Doctors, told ATV television on Monday.
Orban has said a relaxation of curbs can start once 2.5 million people have been inoculated, comprising the population aged 65 and over. Hungary may be able to administer at least the first shot to more than 2 million people as soon as Monday, the prime minister said on Facebook. The nation now has the European Union's fastest inoculation rate after Malta.​
The strategy is unlikely to work, according to Citigroup economist Eszter Gargyan, because the aggressive U.K. variant of Covid-19 -- the one that's now prevalent in Hungary -- has led to a spike in hospitalizations in younger age groups.
"This in our view suggests that the government may be either forced to postpone reopening at least a few more weeks or may be forced to impose another lockdown" in the second quarter "before vaccinations would allow broader reopening" in the summer, Gargyan said in a report on Monday.
Eastern Europe remains the world's worst Covid hotspot, with 10 of the 11 countries with the highest death rates over the past week located in the region.
Poland, the region's biggest country, reported 16,965 new coronavirus cases over the past 24 hours, a 16% increase from a week ago when the government announced a tightening of curbs.