Asia's Longest-Serving Leader Has Bigger Worries Than the Election
(Bloomberg) -- Along a busy highway in western Phnom Penh, Sam Han is among hundreds of garment factory workers scurrying past signs urging them to support Cambodian Prime Minister Hun Sen's party.
The 44-year-old plans to head to her hometown near the Vietnamese border to vote in Sunday's election, even though there's not much of a choice. While she avoids saying who she'll pick, similar to many other laborers who shy away from discussing politics, Sam Han said she's disappointed the main opposition Cambodia National Rescue Party was disbanded last year.
"There should be an opposition party," she said. "I would be very happy if they came back."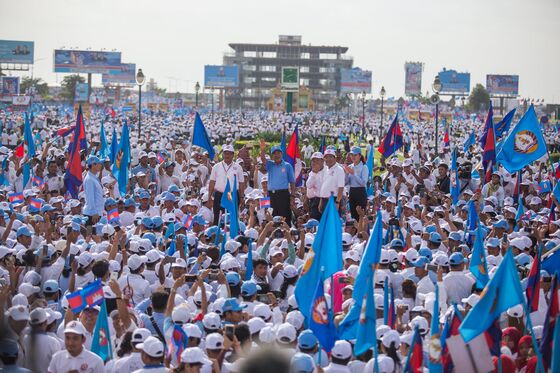 Cambodia's election is all but a done deal: With the main opposition politicians on the sidelines and urging a boycott, Hun Sen is set to extend his more-than-three-decade run in power. The real test for Asia's longest-serving strongman is making the vote look credible enough to prevent wage-earners like Sam Han from protesting -- and ensure both the European Union and the U.S. don't remove duty-free access for the garment industry.
Two decades ago, the U.S. and its allies could use financial leverage over aid-dependent Cambodia to nurture a democracy forged after Pol Pot's genocide wiped out about a fifth of the population. But in recent years China has become the biggest spender, providing the government billions of dollars in loans and public and private infrastructure projects.
That has emboldened Hun Sen to get tough on his political opponents while urging the U.S. to withdraw all aid. Yet that bravado now risks doing damage to the crucial garment sector, Cambodia's largest formal employer. It accounts for about a third of the economy and supports about 15 percent of the nation's 16 million people.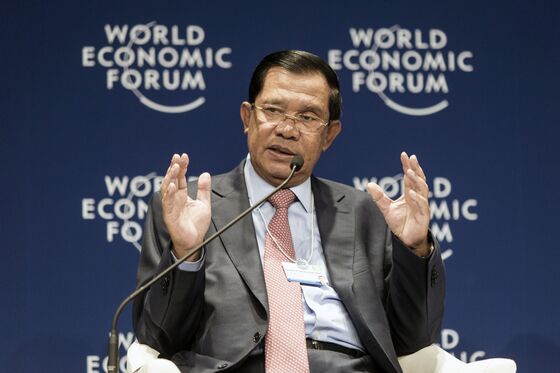 The EU this month sent a delegation to Cambodia to reevaluate its duty-free agreement, with trade commissioner Cecilia Malmstrom citing a "serious decline in the area of political and electoral rights." The U.S., which imposed sanctions last month on the chief of Hun Sen's personal bodyguard unit over human rights abuses dating back to 1997, may eventually follow suit.
"Hun Sen doesn't care about democracy, but Cambodia's bottom line is still a big deal," said Michael Kugelman, deputy director of the Wilson Center's Asia Program in Washington. "So if you can try to leverage efforts to push back against the recent trend, then this is really one of the only tools that they can use."
Hun Sen has pursued a months-long charm offensive at factories in a bid to spur high turnout among mostly female garment workers, who were instrumental in 2013 protests that emerged after the election. Most controversially, he's proposed boosting the minimum wage to $250 per month over by 2023 -- a nearly 50 percent jump.
While that may help him get past Sunday's election without protests, the wage rise risks pushing companies that make clothes for brands such as Gap Inc. and Hennes & Mauritz AB to lower-cost destinations like Bangladesh. The Garment Manufacturers Association in Cambodia said more than 100 factories have closed in the past few years as costs have risen.
"Even at $200 per month, Cambodia salary is nearly the same level as the cheapest country in eastern Europe," said Eric Tavernier, chief executive officer of textile firm We Group Ltd., which has a factory that employs about 700 workers in the coastal town of Sihanoukville. Still, he said, the access to the U.S. and EU markets is even more important: "If there is no more duty free in Cambodia, we close in Cambodia."
Hun Sen has overcome a lot over the years, not least during his time fighting with and then against the Khmer Rouge. On July 12, the 65-year-old prime minister said on Facebook that he "led the country past many dangerous situations to maintain peace, stability, security, and social order, and prevent the color revolution from inside and outside the country."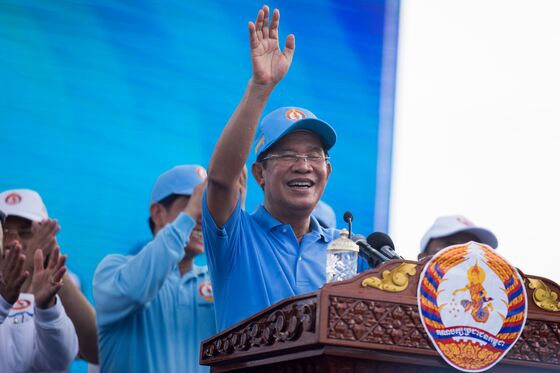 At a massive election rally on Friday in Phnom Penh, Hun Sen boasted about disbanding the main opposition Cambodia National Rescue Party, known as CNRP.
"If we didn't eliminate them with an iron fist, maybe now Cambodia would be in a situation of war," he said.
The CNRP took 45 percent of seats up for grabs in the 2013 election, and nearly won the popular vote. Opposition party leader Kem Sokha was jailed last year on charges of treason and collusion with U.S. officials, allegations he denies.
Sam Rainsy, a former party leader who lives in exile i3n Paris, has urged supporters to stay away from the polls.
"Workers will not be fooled by Hun Sen's demagoguery," he told Bloomberg. "A relatively low voter turnout, as a result of our boycott call, will further delegitimize this fake election."
Human-rights advocates worry that some garment workers may be pressured to vote for the government, and face some sort of punishment if they don't come back with an ink-stained finger indicating they've cast a ballot. Phay Siphan, a government spokesman, didn't respond to repeated requests for comment.
Garment factory owners are worried about the wage increases, including many who hail from China. And they are not alone: Even the International Monetary Fund has warned that income gains that aren't supported by productivity gains could backfire.
"Cambodia's recent success as a clothing maker has benefited from rising labor costs in China, and its transformation towards higher value-added production," the IMF said in an email. "However, as wages and other costs in Cambodia rise, other countries become relatively more attractive for garment production."
Still, Hun Sen's plan to raise wages might just keep people off the streets. Sam Han, the garment worker, said she's in favor of the plan to boost her income.
"If he does what he promises, then the garment workers will thank him," she said.