Humbled Merkel Pledges Change of Course After Coalition Clashes
(Bloomberg) -- German Chancellor Angela Merkel pledged to stabilize her six-month-old government after a summer of clashes among party leaders that twice pushed her coalition to the brink of collapse.
In a moment of humility, Merkel expressed regret about the latest infighting and suggested it was alienating voters after support for Merkel's Christian Democratic-led bloc declined to a 21-year low in a poll last week.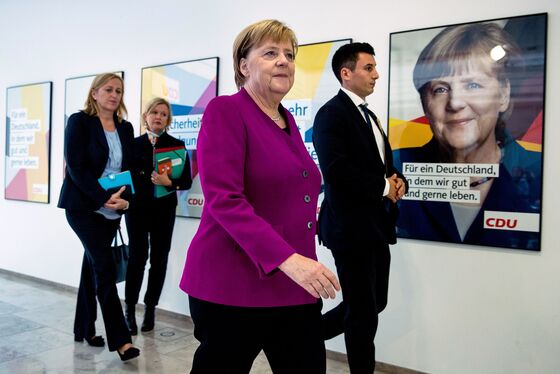 "In recent months we've focused in many instances too much on ourselves," Merkel told reporters in Berlin on Monday. "That has to change."
A day after her coalition eked out a truce in a clash over Germany's domestic intelligence chief, Merkel said leaders of her Christian Democratic Union, Bavaria's ruling Christian Social Union and her Social Democratic coalition partner will meet on Oct. 1 to plot strategy for the rest of the year.
"We're living in extraordinarily challenging times," Merkel said, citing the U.K.'s exit from the European Union, Germany's diesel-car crisis and social programs such as nursing care. Party leaders will conclude discussions on a diesel solution at the Oct. 1 meeting, she said.
After almost 13 years in office that make her Europe's longest-serving leader, Merkel in her fourth term has found herself hemmed in for weeks at a time by coalition clashes.
The latest conflict was stoked by next month's election in Bavaria, a state the CSU has governed virtually on its own since World War II. Polls suggest the party will lose its legislative majority in the Oct. 14 ballot and support for the anti-immigration Alternative for Germany, or AfD, will surge.