How to Stop Brexit Is Matter of Opinion at EU's Highest Court
(Bloomberg) -- As Britain's constitutional crisis plays out at home, a little-known Spaniard at the European Union's top court is set to weigh in on a key legal question: Could the U.K. unilaterally revoke its "Article 50" letter that started the clock ticking on Brexit?
Manuel Campos Sanchez-Bordona is an advocate general at the Court of Justice of the European Union, known as the ECJ. On Tuesday, he'll deliver his considered opinion to judges preparing to rule as soon as this month in a case one of its backers, pro-Remain lawyer Jolyon Maugham, described as "profoundly important."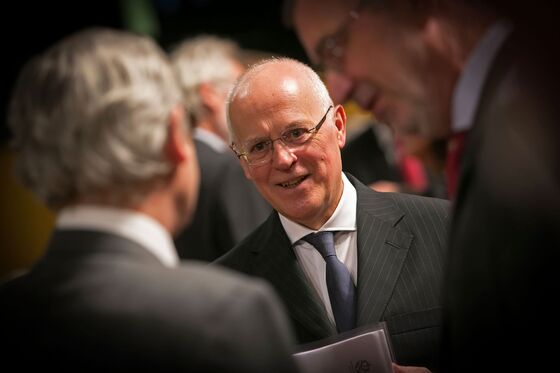 Prime Minister Theresa May's legal team tried to halt the case. But her opponents hope it will give U.K. parliamentarians a way to step back from the precipice of this dilemma instead of backing May's much-maligned deal with the EU or leaving the bloc with no agreement.
What is an advocate general?
While each of the EU's member states has a judge at the ECJ, there are just 11 advocates general drawn from across the bloc. They work independently from the judges and their key role is an advisory one. There are strict procedures on how cases are distributed among chambers and to certain advocates general.
Will this be the actual decision?
No. The opinion, while important, is just a guide -- giving indications about how the court may rule or the legal thinking behind it. Opinions are only published by the court in complicated cases or cases that raise new questions of law.
Why care if the opinion is not binding?
In difficult cases, the advocate general helps by giving "impartial, thoughtful, judicial reflection," according to Eleanor Sharpston, a British advocate general at the court in Luxembourg. Speaking to Bloomberg earlier this year, she called the job "high risk" because "you're sticking your neck out" by telling the court, blandly not politely, what it should do.
Why is this case happening so quickly?
Even legal specialists have been surprised at the speed of this case. But that doesn't mean it's a rushed job. The advocate general starts working almost from the moment a new filing is made, in this case Oct. 3. It's likely that Sanchez-Bordona already had a thorough draft of his legal thinking and prepared questions for the Nov. 27 hearing, which could have altered his view on some points or given him new insights.
He's Spanish. Is that fair?
His country had an 11th-hour clash with the U.K. over the future of the disputed territory of Gibraltar. But just like the judges, advocates general take an oath to act completely independently. Had the case been assigned to the new Irish advocate general, it would likely have raised even more eyebrows, said Herwig C. H. Hofmann, professor of European law at the University of Luxembourg.
What is the opinion likely to be?

There are a few possibilities: one is that Sanchez-Bordona deems the case to be inadmissible and suggests sending it back to the Scottish court that asked EU judges for guidance.
He could say that the U.K. can unilaterally retract the Article 50 letter before the country is scheduled to exit the bloc in March -- offering hope to Remainers.
Maugham, the anti-Brexit lawyer, said over the weekend that a U.K. government source claimed to have been told the opinion and that it says Britain can revoke Article 50 but only with the unanimous approval of the remaining 27 EU nations.
We'll only know on Tuesday whether that's right. If it was leaked, it would be an unprecedented lapse in confidentiality.
How often does the court follow the advocate general's opinion?
Usually -- although there are no publicly available statistics. Diverging views aren't uncommon, though. Recent examples include a legal saga linked to the Bernard Madoff scandal and a case about copyright protection for Christian Louboutin's iconic red-soled stiletto shoes.
Armed with the advice of Sanchez-Bordona, the next step will be for the judges to issue a final ruling. A date hasn't been announced, but it's possible a ruling could even come before Dec. 11, when Parliament holds its "meaningful vote" on the withdrawal deal that May reached with the EU.