How Theresa May Might Just Pull It Off
Four weeks after she suffered the biggest parliamentary defeat in modern history, Theresa May might just have found a path to getting her Brexit deal approved.
Even as the prime minister's efforts to renegotiate her unpopular divorce deal have so far been fruitless, the mood among members of Parliament seems to be more optimistic that she will -- eventually -- get a deal through the House of Commons.
A lot could go wrong, but here's a possible route to an agreement, based on the calculations of lawmakers and ministers.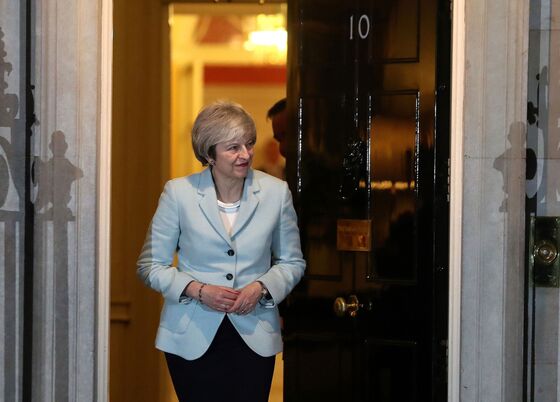 May was defeated first time around by 432 votes to 202. To win, she needs 320 MPs on her side, two of whom aren't included in the tallies, because they count the votes. So she's 116 MPs short. Where to find them?
The Democratic Unionist Party: 10
Northern Ireland's DUP, who prop up May's minority government, are the key. Although they're tough negotiators, there are signs that they're willing to find common ground. They have talked about wanting "legally binding changes" to May's Withdrawal Agreement, a less hardline stance than many Conservatives. The prime minister needs to come back from Brussels with something that satisfies them on the thorniest issue of all, the Irish border backstop.
Those voting against May's deal last time included 118 Tories – more than a third of her party. But relatively few of these are hardline euroskeptics. Around 50 of the Conservative rebels are instinctive loyalists who will be quite keen for an excuse to vote with the government. Beyond them, goes the theory, are at least 25 who can be persuaded that if the DUP are happy, they can back the deal. May will never get every Tory: There are the 10 who are opposed to any kind of Brexit at all, as well the die-hard euroskeptics. But one government minister, speaking privately, predicted the rebellion would shrink to 35.
In January, May got the support of just three Labour MPs. But in a series of Brexit votes two weeks later, 14 backed the government, and eight more abstained. Meanwhile the signals from party leader Jeremy Corbyn have been conciliatory, meeting May and offering to work with her. In reality, Corbyn doesn't want to vote for Brexit – it would upset too many Labour activists. And May doesn't want him to – having him on her side could provoke an even bigger Tory rebellion. But it would suit both if his MPs who represent pro-Brexit districts felt free to back her deal. There is, a member of the shadow cabinet observed privately, a strong desire both in Parliament and the country to get Brexit over with and talk about something else.
First, all this hangs on May winning the support of the DUP. Those who oppose her deal are well aware of this. They're likely to argue that whatever the prime minister wins in her renegotiation of the backstop is insufficient. Much could hang on the meaning of "legally binding."
Second, Conservatives could prove more determinedly rebellious than expected. Many are under pressure from activists to vote against the deal.
Third, Labour could be lulling the Tories into a trap. The prize of defeating May again could just be too tempting for Corbyn.
And If She Wins, Is That Everything Sorted?
Far from it. After this, May has around 50 more votes to win before the end of March if she wants to get all her Brexit legislation through without seeking an extension to the Brexit day deadline. There's a school of thought that this vote is the easy bit.