How Much Might Irish Passport Be Worth After Brexit? $80,000
(Bloomberg) -- With Brexit drawing closer, Noeleen Hayes decided it was time to get her two sons Irish passports.
Living in Fermanagh in Northern Ireland, the 42-year-old spent about 300 euros ($337) applying for Irish citizenship for her boys, aged 11 and 12, in part to secure European Union benefits like lower university fees and health care. Under a 1998 peace deal, Northern Ireland's 1.8 million people are entitled to an Irish passport, a British passport or both.
"This is to hopefully retain their rights as Irish passport holders and EU citizens, to work and study anywhere in Europe or in Ireland," said Hayes, who is originally from Birmingham in the U.K. and qualifies for an Irish passport through her parents.
Yet concerns are mounting that it might not be that simple -- many of those entitlements are in jeopardy unless the U.K. and EU essentially agree to consider Northern Ireland as part of the bloc after Brexit. The battle over rights is a microcosm of the wider dispute over Ireland which is threatening to catapult Britain out of the EU without a deal.
Northern Ireland's status is a key sticking point in Brexit talks. Though the focus has been on avoiding border checkpoints, the question of allowing Northern Irish citizens keep the perks of EU citizenship is proving "tricky," Irish Prime Minister Leo Varadkar said last week, in another example of how Brexit risks reopening wounds which have been slowing healing over the past two decades.
Last week, 1,000 prominent Northern Irish figures wrote to the Irish leader, urging him not to desert the region.
"The warm words have been reassuring, but people in Northern Ireland are really afraid of being abandoned, " said Colin Harvey, law professor at Queens University Belfast. "The warm words need to be followed through with rock-solid, written, legally sound guarantees."
With Northern Ireland voting by 56 percent to 44 percent to remain in the EU, it's easy to see why an Irish passport seems so enticing. Dublin has drawn 180,000 applications from the North applying since the Brexit vote.
Many will hope access benefits like free health treatment while visiting Europe, qualification recognition across the bloc and subsidized university fees. An EU citizen studying engineering in Dublin's Trinity College pays about 28,000 euros over four years. Non-EU citizens, like the British after Brexit, will pay about 100,000 euros.
Trouble is, many of these entitlements are bound up with residency. A student needs to have lived in the EU for three of the five years preceding admission to qualify for lower fees in Dublin, for example.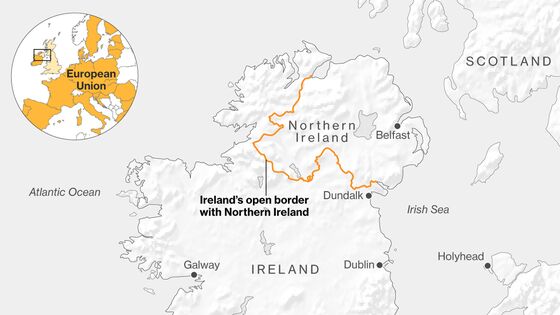 The solution is to have Northern Irish residents treated as though they were living in the EU after Brexit, Varadkar said. Similarly, the EU has suggested treating the region as part of the bloc's customs zone after the U.K. leaves, to help avoid border checkpoints returning to Ireland. The U.K. has rejected that, suggesting the EU effectively wants to annex the region.
Doubts have also been raised about the legal underpinning for arrangements which allow Irish citizens to freely live and work in the U.K, and vice-versa, according to a report commissioned by human rights groups north and south of the border.
The Common Travel Area between Ireland and the UK is currently "written in sand, and its terms are much more limited than is often believed to be the case," according to the report, which called for a new treaty to be negotiated to copper fasten the concept.
Irish authorities say the British need to do their part to safeguard the Good Friday Agreement, the deal which largely secured peace in the region.
"There is an onus on the British government to also protect the Good Friday Agreement in all its parts and it should ensure that these issues are fully taken account of," the foreign ministry said.
"I hope that the Irish government and the EU ensure the protection of these rights, as I believe that the U.K. government don't speak for us," she said.