How Merkel Might Name Draghi's Successor as a Consolation Prize
(Bloomberg) -- Jens Weidmann's candidacy to head the European Central Bank isn't dead. He may just have to bide his time.
It's still early days in the political maneuvering to fill the European Union's top posts and Chancellor Angela Merkel is leaving her options open. That alone is enough to keep the German central bank chief in the running to succeed ECB President Mario Draghi.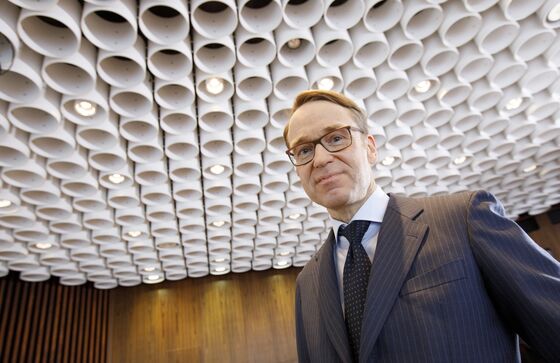 The role of European Commission president is key to the ECB process, since a German can't occupy both posts. Yet in her opening gambit, Merkel gave only conditional backing to her political ally Manfred Weber's bid to head the commission. It's a sign of concern in Berlin that Weber may not be the strongest candidate for Europe's center-right political family, where Merkel's Christian Democratic-led bloc is the biggest power.
That means Weidmann could be back in play for the ECB if Weber's candidacy fails and a non-German ends up heading the commission again, according to people familiar with the government's deliberations who asked not to be identified. A lot can still happen before the October 2019 deadline to fill both posts. Here's a look at several possible scenarios:
A Weber Presidency
Weber, whose CSU is part of Merkel's government, had to declare publicly now because of procedural deadlines for European Parliament elections in May. That makes him the first German candidate for the two big EU posts, which isn't necessarily an advantage.
While Merkel couldn't feasibly oppose a German contender, the hurdles in the multistep selection process allow her to hedge, one of the people said. At decision time -- most likely after the European election -- EU momentum might build behind a person with more experience and authority to head the EU's executive arm, both people said.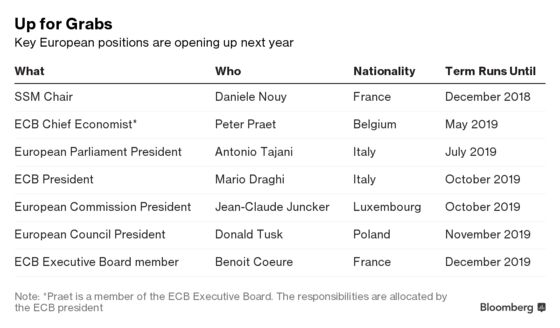 For now, Weber has to secure backing from his European People's Party to run as its lead candidate. Possible challengers include Michel Barnier, the EU's chief Brexit negotiator, and former Finnish Prime Minister Alexander Stubb.
Even if Weber wins the endorsement and leads the EPP to victory in May, his lack of executive experience could become an issue in the horse-trading.
A veteran of dozens of all-night EU negotiations during almost 13 years in office, Merkel is reticent for a reason: the European posts will be awarded in a game of brinkmanship, national interests and party power balances that's only just unfolding.
She hasn't dropped Weidmann and thinks highly of the Bundesbank chief, who was her main economic adviser for five years until 2011, one of the people said. In contrast, Merkel coupled her backing for Weber last week with the caveat that other European People's Party candidates might still step forward.
History suggests that Merkel would have to go to the mat for Weidmann if she wants to install the ECB's first German president. In 2011, she didn't publicly back Axel Weber, who subsequently gave up on seeking the post. Weidmann is seen as sensitive to the EU-level politics that Merkel has to navigate.
While Merkel is said to have dismissed speculation she might seek the European Commission post, there have been periodic suggestions she'd make a good successor to Jean-Claude Juncker. Merkel, 64, would provide gravitas and global recognition at a time when the EU is besieged by populist parties, trade conflicts with U.S. President Donald Trump and the U.K.'s exit.
Domestic political considerations aside, getting Merkel into play might involve a deal with French President Emmanuel Macron. If Weber's candidacy fails, it could open the door to France taking the ECB presidency and Merkel becoming the first German head of the European Commission in decades.
Merkel has hinted at the bargaining ahead, saying last week that European elections next spring are only a prelude to "more talks and negotiations."
Though she dislikes being labeled the defender of the global liberal order, Merkel inevitably has the EU on her mind. She told ARD television in August she's committed to serving out her fourth and presumably last term, which ends in 2021.
But, she added, "what's very close to my heart is Europe, our European community."