How Investors Can Prepare for a Surprise Indonesia Election Outcome
(Bloomberg) -- The race for Indonesia's next president is going down to the wire. Here's what investors and analysts suggest investors in the world's fourth-most populous nation do.
The odds of Prabowo Subianto upsetting incumbent Joko Widodo in the April 17 election have risen as the campaign heats up with a recent pre-poll survey showing the president's chances of winning below 50 percent. Given how Mahathir Mohamad pulled off a surprise victory last year in neighboring Malaysia, investors may be advised to not put all their eggs in one basket, according to money managers and strategists.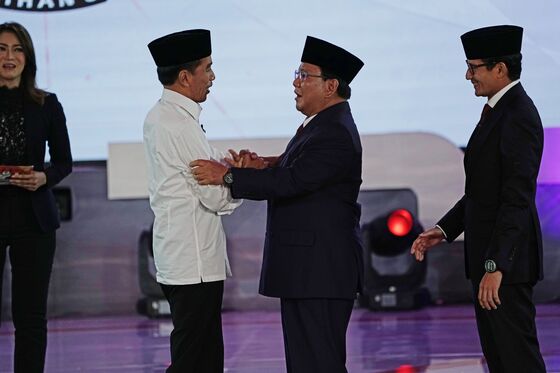 While a win for Widodo, known as Jokowi, would mean an extended rally for Asia's best-performing major equity market in the past decade, his defeat may trigger an upheaval. While Jokowi still remains the firm favorite to win a rematch of the 2014 election, some analysts say Prabowo can pull off the impossible.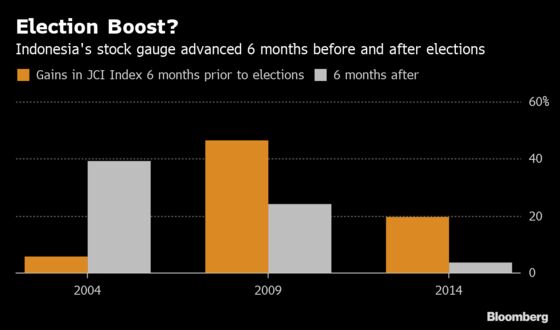 Indonesian stocks have rallied six months before and after every election after direct presidential polls were introduced, with the biggest gain seen so far when the system was first used in 2004, according to Sook Mei Leong, head of global markets research at MUFG Bank Ltd.
Election outcomes tend to impact the currency and bonds less, she said in a report dated Feb. 15. The benchmark Jakarta Composite Index is up 12 percent since the middle of October, while rupiah is up almost 7 percent, mostly on dwindling odds of further U.S. Fed rate hikes.
Snapshot of pre-poll surveys
| | | | |
| --- | --- | --- | --- |
| Pollster | Jokowi | Prabowo | Margin |
| Kompas | 49.2% | 37.4% | 11.8% |
| SMRC | 57.6% | 31.8% | 25.8% |
| Roy Morgan | 56.5% | 43.5% | 13% |
| Indikator Politik | 54.9% | 34.8% | 20.1% |
| Charta Politika | 53.6% | 35.4% | 18.2% |
Bloomberg spoke to money managers and analysts on the best strategies for investors ahead of the vote.
John Rachmat, strategist at PT Pinnacle Persada Investama
A Prabowo win will be bad news for equity markets
Be prepared for a "5 percent drop in JCI within a week of the news, then a rebound for six months and in a downtrend for next five years" 
Some sectors would be "less damaged" than others, but there is no such thing as a "Prabowo-proof" sector; every sector would take a knock, the only issue is how bad that knock would be
Rachmat bets export-oriented sectors may do relatively well due to their dollar earnings, while the consumer sector,  a traditionally resilient sector, would be hurt due to Prabowo's "everything cheap to the masses" policy
Alan Richardson, fund manager at Samsung Asset Management
Indonesian stocks are expected to rise in the first half as Jokowi is likely to be re-elected 
Stocks will drop 5% and rupiah will decline in the event of a shock Prabowo win
Foreign investors prefer stability under a moderate leader with proven track record
Harry Su, managing director and head of equity capital markets at PT Samuel International
A Widodo defeat would be seen by many investors as an unexpected outcome and could result in a negative knee-jerk reaction 
Initial drop in stocks and bond prices could present investors with good buying opportunities, assuming the new government can deliver
No significant differences in policies of the candidates as both are populists and nationalists. That should pave the way for investors to return to the market as long as national security remains intact
Those seeking hedges against possible upset can hold cash or move into defensive stocks like PT Bank Central Asia, PT Unilever Indonesia and PT Gudang Garam
Jemmy Paul, chief executive officer of PT Sucorinvest Asset Management
Paul expects infrastructure development to continue irrespective of who wins and has been accumulating construction stocks along with some banks, PT Telekomunikasi Indonesia and PT Astra International 
Valuation of some state-owned construction stocks are attractive, he says
Sook Mei Leong, Asean head of global market research at MUFG Bank
Sees presidential elections having more positive impact on equities than rupiah 
Prabowo will likely to be negative for rupiah in the short term
Prabowo-Sandiaga pair may do better than what opinion polls suggest
George Efstathopoulos, portfolio manager at Fidelity International
Continues to favor Indonesian bonds as "inflation has been surprising on the downside, giving more leeway for the central bank to start easing"
Hans Redeker, analyst at Morgan Stanley
Remains bullish on rupiah on the back of lower inflation, and retains positive outlook on government bonds
Sees continued foreign inflows into sovereign bonds 
Forecasts three rate cuts by Bank Indonesia after the elections as inflation pressure continues to ease and current account deficit narrows
Rate cuts will support rally in government bonds and attract more inflows, which will be positive for rupiah
Andri Ngaserin, analyst at Credit Suisse
Credit Suisse maintains its earnings growth forecast for Indonesian companies at 13 percent in 2019 and sees Jakarta Composite Index rallying to 6,900
Among top stock picks are PT Hanjaya Mandala Sampoerna, PT United Tractors, PT Astra International, PT Bank Mandiri, PT Telekomunikasi Indonesia, PT Ace Hardware Indonesia, PT XL Axiata and PT Bank Tabungan Pensiunan Nasional Syariah