Top Texas County's Voters Cleared for Mail-In Applications
(Bloomberg) -- Democrats got a boost in a key swing state on Friday when a judge ruled that Texas can't stop a local clerk from sending applications for mail-in ballots to all 2.4 million registered voters in the state's biggest county.
Texas had claimed that mailing out unsolicited applications to millions of voters, many of whom don't qualify under state rules as disabled, absentee or senior citizens, would encourage people to vote by mail illegitimately in November. Harris County District Judge R.K. Sandill disagreed, finding that while the state's legislature had spelled out 43 provisions for mail-in ballots, it made no rules about how voters should get applications for those ballots.
"This court firmly believes that Harris County voters are capable of reviewing and understanding the document" the clerk proposed sending out "and exercising their voting rights in compliance with Texas law," Sandill wrote.
Texas is a key battleground in the national vote-by-mail controversy spearheaded by President Donald Trump, who has repeatedly claimed, without evidence, that widespread use of mailed ballots leads to rampant voter fraud. Harris County, which has voted Democratic in the last two national elections, is the largest in Texas, with nearly 4.8 million residents. Voting by mail is a central issue amid the coronavirus pandemic.
"I will immediately appeal this decision to protect the integrity of our democratic process," Texas Attorney General Ken Paxton said in a statement. Paxton, who sued Harris County Clerk Chris Hollins to stop him from mailing out the applications, said Hollins "knowingly decided to violate Texas election law by preparing to send out over two million ballot applications, many of which will reach Texans who do not qualify and have not requested one."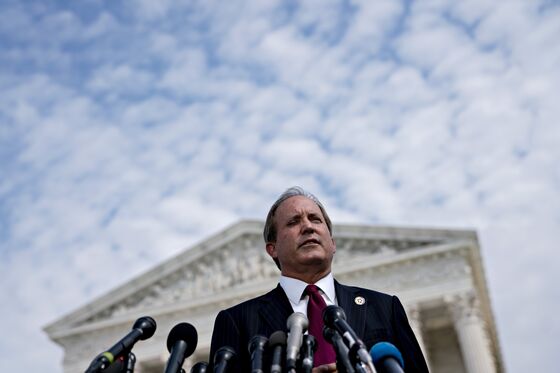 Hollins said in a statement that "providing clear information about vote-by-mail eligibility requirements increases voter awareness, and we want to ensure that those who determine themselves eligible can easily apply for a mail ballot and make their voice heard this November."
Houston is the most diverse large city in the U.S. and a launchpad for the Democratic Party's effort to tip the traditionally red state blue in November. If Democrats succeed in capturing enough voters, they could seize control of the state's next redistricting cycle and realign Texas's hefty congressional delegation, on top of costing the president all 38 of the winner-take-all state's electoral votes.
"This is a victory for Texas voters against a blatant attempt at voter suppression," Gary Bledsoe, president of the Texas NAACP, said in a statement. He said "the more people who vote in person, the greater the risk of contracting the virus, and so voters would have to choose between their vote and their health."
Texas's Republican leadership says trial judges, who have largely ruled against the state's efforts to restrict mail-in ballots during the pandemic, are thwarting the state legislature's carefully crafted rules to help voters who need special assistance without opening up the system to broad voter fraud.
The GOP has also enjoyed some victories in court. Still, it's unclear whether earlier rulings upholding Texas's vote-by-mail restrictions will help Paxton in this fight.
The Texas Supreme Court ruled that lack of immunity to Covid-19 alone didn't qualify otherwise able-bodied voters to cast mailed ballots. And the federal appeals court in New Orleans held that Texas's mailed-ballot rules don't discriminate against younger voters by requiring all able-bodied citizens to go to the polls, while voters over age 65 can vote by mail. The Harris County dispute is about whether a county can send unsolicited applications for mailed ballots to potentially unqualified voters, not about the rules over who qualifies to vote by mail.
Activists pushing to make voting by mail available to more people have pointed out in the other cases that the Texas legislature has been out of session since before the pandemic began and won't meet to reconsider voting rules under such conditions until after the November election.
In his ruling on Friday, Sandill stressed that the Texas Supreme Court ruling left it in voters' hands to decide whether they have underlying health conditions that make it too dangerous to vote in person.