Republican Senators' Choice: Back or Oppose Trump on Border Emergency
(Bloomberg) -- Senate Republicans must now decide whether to stop President Donald Trump from using an emergency declaration to pay for his border wall, and support from just four GOP members might be enough to send him a measure blocking his plan.
But Trump has promised to issue his first veto if a resolution of disapproval reaches his desk, and Congress appears far short of the votes for an override.
The Democratic-controlled House voted 245-182 Tuesday for a resolution designed to stop Trump from taking billions from other parts of the federal budget to build his promised wall. In the GOP-majority Senate, three Republicans already back the measure, just one short of the number needed to adopt it if the 47 Democratic caucus members stick together. Neither chamber is close to the two-thirds majority needed for an override.
By law, the Senate will have 18 calendar days to consider the House measure, H.J.Res. 46, or act on its own version.
The issues underpinning the emergency declaration likely will feature prominently in the 2020 elections -- with Trump asserting Democrats don't want to secure the U.S. border with Mexico, and Democrats saying the president is wasting money on an ineffective and purely symbolic tool to keep undocumented immigrants out of the U.S.
The resolution also highlights a power struggle between Congress and the White House over how much control the legislative branch should cede to the executive branch.
Republicans leaders defended Trump's emergency declaration to redirect Defense Department funds without congressional approval as necessary to defend the southern border. House GOP leader Kevin McCarthy of California called the resolution a "purely political statement."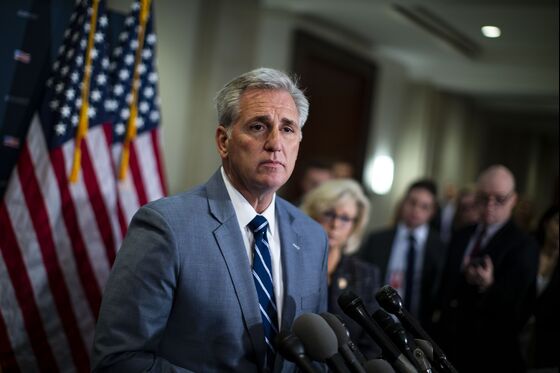 "Not only does the president have the legal authority to declare this national emergency under two federal statutes, the move is far from unprecedented," McCarthy said in a statement, noting 31 national emergencies that are still in effect.
Presidents have issued almost 60 declarations since the National Emergencies Act was enacted by Congress in 1976. The law requires Congress to review the declaration as a check on executive power, and Senate adoption of the House resolution would be the first time Congress has voted to end an emergency declaration.
There has been bipartisan unease with Trump's move to shift money outside of the normal congressional process to fund a border wall he promised supporters during the 2016 campaign.
Republican Representative Thomas Massie of Kentucky was one of 13 House Republicans who joined Democrats in backing the resolution.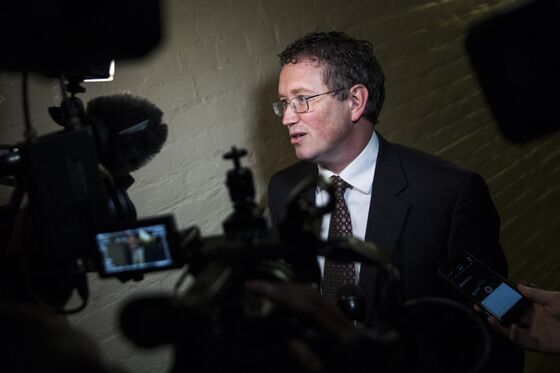 He said he supports Trump and agrees with the need for a border barrier, but supported the resolution "in order to be consistent in preserving the constitutional structure of our republic." Massie and other Republicans have warned about the precedent set by Trump's declaration, which future presidents could use to redirect government funds to their preferred policy goals.
"There is a crisis at our border, but it's not an emergency when Congress doesn't spend money how the President wants," Massie said on Twitter. "The President's constitutional remedy is to veto spending bills that aren't suitable to him, yet he has chosen to sign many bills that did not fund the wall."
Trump signed the first spending bill of his presidency last year, even though he complained that Republican majorities in both chambers didn't appropriate enough for the wall. He then surprised GOP leaders in December by rejecting a Republican spending bill that included $1.3 billion for a border barrier, which caused the 35-day lapse in government funding that forced some federal agencies -- including the Department of Homeland Security -- to close.
That impasse was resolved when Trump agreed to sign a bipartisan spending bill that provided the $1.4 billion for physical barriers on the border, including 55 miles of new construction. At the same time, he signed an emergency declaration to shift $3.5 billion from military construction accounts to the border wall.
Trump is also attempting to tap $600 million from the Treasury asset forfeiture fund, and $2.5 billion from a Defense Department anti-drug program -- moves that don't rely on the emergency order.
In the Senate, 13 Republicans have criticized Trump's declaration and three of them have said they'd vote to kill it, in a rebuke to the president of their own party.
Majority Leader Mitch McConnell of Kentucky made clear weeks ago he didn't want Trump to declare an emergency. But on Feb. 14 -- as lawmakers neared a deal to prevent another government shutdown and Republicans wanted the president to say whether he'd support the measure -- McConnell said he'd committed to backing the emergency declaration after the president said he would sign the spending bill.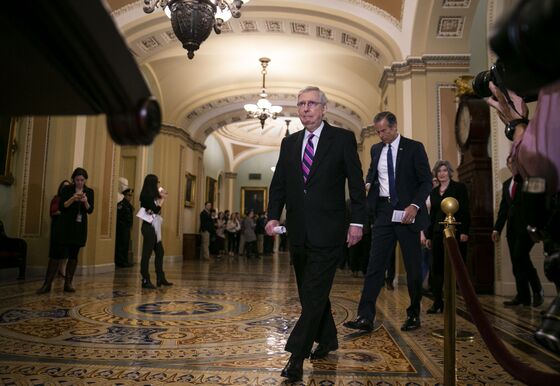 Asked Tuesday whether the emergency declaration is legal, McConnell said he didn't know. "We're in the process of weighing that," McConnell told reporters, adding that Senate Republicans debated the matter at a closed-door meeting today with a Justice Department official and Vice President Mike Pence present. McConnell said he "hasn't reached a total conclusion" about the legality of it.
Apprehensions of immigrants crossing the border illegally have fallen dramatically since peaking in the last decade. Government data show that most illegal drugs come through ports of entry rather than the part of the border where a wall would be built.
Recent polls have generally found that most Americans don't support Trump declaring a national emergency for the wall. Even in Texas, a Republican state with a long border with Mexico, voters disapprove of Trump using executive power to divert money for the wall 60 percent to 39 percent, and a majority said undocumented immigrants crossing the border isn't a national emergency, according to a Quinnipiac University poll released Tuesday.
When it comes to the wall itself, polls have shown most Americans don't support it but are divided along party lines. That's true in Texas, where Republicans backed it 87 percent to 11 percent and Democrats opposed it 90 percent to 7 percent, according to the Quinnipiac survey.
The poll of 1,222 Texas voters was conducted Feb. 20-25 and had a margin of error of plus or minus 3.4 percentage points.