House Passes Broad Elections Overhaul Likely to Stall in Senate
(Bloomberg) -- The U.S. House of Representatives passed a landmark bill on Wednesday to overhaul U.S. elections amid a pitched partisan battle sparked in part by false claims of fraud in the November election.
The bill, H.R. 1, passed 220 to 210 in the House, but it is unlikely to get the 60 votes needed to overcome a filibuster in the Senate, as most Republicans oppose it.
The bill would make it significantly easier to vote, limit gerrymandering of congressional districts, require third-party groups to reveal secret donors and reform a dysfunctional election watchdog, among other changes.
The House passage comes just days after former President Donald Trump, in his first public appearance since leaving the White House, repeated baseless claims that the November presidential election was stolen, to wild applause at a conservative gathering.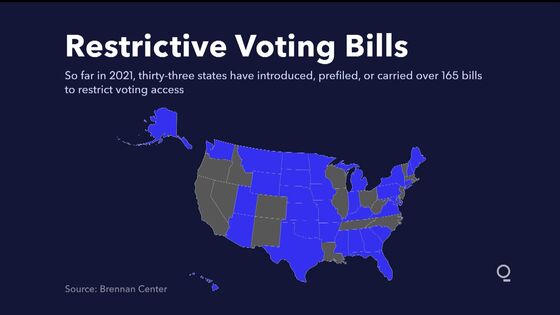 The 2020 election saw near-record turnout despite the coronavirus pandemic, partly helped by states loosening restrictions on early and absentee voting. The increased voting helped candidates of both parties, but Republicans have largely criticized the added access as ripe for fraud.
House Democrats passed a similar bill in 2019, which never came up for a vote in the Senate, which was then controlled by Republicans.
While Democrats are now in charge of the upper chamber, they will not be able to reach the 60-vote threshold to defeat a filibuster and do not have the votes on their own side to change Senate rules and pass the bill on a simple majority.
The bill's author, Maryland Representative John Sarbanes, said the legislation would stop Republican efforts to add new voter restrictions, which have long been criticized for targeting minorities.
"If we don't pass it in this session of Congress, the 2022 election is going to be a story of increased voter suppression across the country," he said. "Republican lawmakers are stampeding toward more obstacles to voting, blocking access to the ballot box in ways that could really create a kind of two-tiered society when it comes to how our democracy operates."
Republicans say the bill is designed to help Democrats win elections and argue it would undermine public faith in elections.
"One size fits all mandates from Washington will not fix the problems we've seen in elections across the country. They will just cause more chaos and confusion. These issues need to be solved at the local and state level," Representative Rodney Davis, an Illinois Republican, said during a floor debate on the bill Wednesday.
The conflict over voting restrictions is not new, but Trump's repeated claims of election fraud, which inspired his supporters to attack the Capitol during the counting of November's Electoral College votes, have heightened tension between the parties.
A Quinnipiac University poll in February showed that more than three-fourths of self-identified Republicans believe there was "widespread fraud" in the 2020 election -- a claim repeatedly rejected by state and federal judges for lack of evidence.
The bill's campaign finance provisions are also facing criticism.
Under the bill, congressional candidates could opt into a system of public-matching funding, with donations under $200 increased six-fold with federal dollars. Candidates opting in would face several restrictions, including a $1,000 contribution limit, far less than the current $2,900 maximum.
American Action Network, a conservative nonprofit, is taking aim at that provision, targeting 51 House districts held by Democrats with digital ads and phone banks. A sample ad says that the party wants "public money for their campaigns."
Legislatures Advance Restrictions
While the Democratic bill is likely to sputter out in the narrowly controlled Senate, Republican-controlled legislatures across the country are moving ahead with bills that would make it harder to vote.
State lawmakers in at least 43 states have introduced three times the number of bills to restrict voting access compared to last year, according to a study from the Brennan Center for Justice, a nonpartisan think tank.
In Georgia, where Democrats won the presidential race and two Senate runoffs, Republicans voted Monday to advance a sweeping bill that would restrict mail-in voting and limit early voting on Sundays that has long been popular with Democratic "souls to the polls" voter drives.
House Speaker Nancy Pelosi made elections reform a top priority, designating the bill H.R. 1, and Sarbanes said Senate colleagues have assured him that it's a priority, but it's unclear how it will get around the procedural hurdles.
Other Democratic bills, such as the $1.9 trillion coronavirus stimulus and an upcoming infrastructure bill, can be passed with a simple majority through a procedure for measures that only affect the federal budget.
But much of the election reform bill would not qualify under those rules, leaving it vulnerable to the 60-vote threshold. Two moderate Democrats, Senators Kyrsten Sinema of Arizona and Joe Manchin of West Virginia, have said they will not support ending the filibuster.
Sarbanes said there are ongoing conversations about other ways to get the bill through the Senate. Though he declined to say what has been discussed, he said he believes the filibuster should be adjusted for issues like elections.
"When it comes to passing a bill that's trying to restore majority rule in America, which I would argue that H.R. 1 is trying to do, it makes sense that passage would come with a simple up-or-down majority vote," he said.