Pelosi Mandates Masks in House After Lawmaker Contracts Covid
(Bloomberg) -- House Speaker Nancy Pelosi is making masks mandatory for all lawmakers while in the chamber after Texas Republican Representative Louis Gohmert, who was frequently seen walking the halls of the Capitol without a mask, said that he tested positive for Covid-19.
"Members and staff will be required to wear masks at all time in the hall of the House except that members may remove their masks temporarily when recognized," Pelosi said on the House floor. "The chair wishes to further inform members and staff that they will not be permitted to enter the hall of the House without wearing a mask."
An official familiar with the decision said Pelosi made it after a discussion with Brian Monahan, Congress's attending physician, following Gohmert's announcement earlier Wednesday. At least two other House members said they were self-quarantining after having contact with Gohmert. Attorney General William Barr was getting a Covid-19 test after testifying at the Tuesday hearing that Gohmert attended.
"The speaker has the authority to direct the sergeant at arms to remove a member from the floor as a matter of decorum," Pelosi said on the House floor. "The chair views the failure to wear a mask as a serious breach of decorum."
A notice sent to House members and staff later Wednesday said the rules cover anyone entering the House office buildings, as well as the Hall of the House in the Capitol.
"Any person not wearing a face cover will be asked to put on a face cover or leave the building," the notice says. The requirement will take effect Thursday morning.
The memo from Monahan and Sergeant at Arms Paul Irving provides a few exceptions, such as for children age 2 or under; a person with a disability preventing the wearing of a face mask; someone eating or giving a speech; or a person swimming in a pool.
Gohmert, an eight-term congressman, at times wears a bandanna, but at Tuesday's House Judiciary Committee hearing, he didn't have his face covered when Barr was being questioning.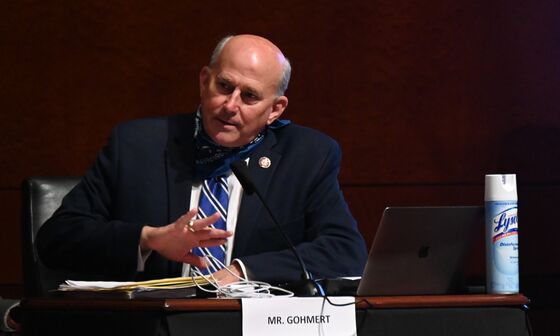 He said in a interview Wednesday with East Texas television station KETK that he had been scheduled to fly to Texas with President Donald Trump but tested positive in a screening at the White House.
"Before you go anywhere with the president or have a meeting with the president, we are always tested," Gohmert said.
He said he wears a mask "most of the time" and speculated that he might have contracted the virus by getting it on his hands and putting it onto the mask. He said he will be quarantining for 10 days.
The office of Representative Kay Granger of Texas, the top Republican on the House Appropriations Committee, said Wednesday that she is also self-quarantining after having been seated next to Gohmert on a flight late Sunday. And Representative Raul Grijalva, the Arizona Democrat who leads the House Natural Resources Committee, said he's also taking the step after Gohmert attended a hearing that panel held on Wednesday.
"I'm self-quarantining until I take a test and then again until results are in," Grijalva said. "In the meantime, my work schedule and the lives of my employees are disrupted. This stems from a selfish act by Mr. Gohmert, who is just one member of Congress."
House Judiciary Committee Chairman Jerry Nadler, the New York Democrat who led the Barr hearing, posted on Twitter his wishes for Gohmert's "full and speedy recovery," while noting his resistance to wearing a mask.
In the KETK interview, Gohmert said that he still opposes mask mandates, but added that it's important for people who have tested positive to wear masks.
"I will be religiously wearing a mask," he said.