House Raises Roadblocks to Quick Action on Senate China Bill
(Bloomberg) -- Key House lawmakers are raising potential obstacles to Senate Majority Leader Chuck Schumer's plan to force action on his legislation to bolster U.S. competitiveness with China by attaching it to an annual defense policy bill.
Representative Gregory Meeks, the Foreign Affairs Committee chair, said he wants the House to vote on a bill approved by his committee to counter China rather than rubber-stamp the Senate's almost $250 billion measure, which includes $52 billion in grants and incentives for the domestic semiconductor industry.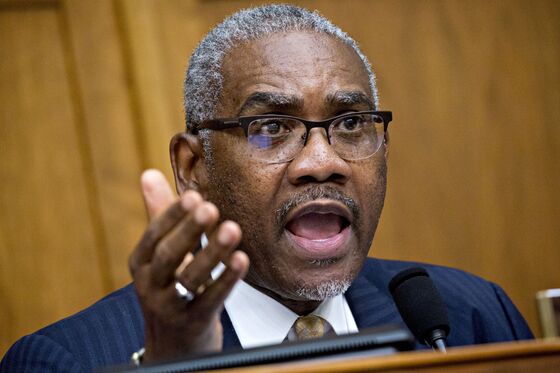 "The House has to have a voice in this and not just what the Senate sends over." Meeks, a New York Democrat, said in an interview. "There's differences in our bill. It's tremendously important for us to have climate in the bill. So we'll have further conversations but I think I want my bill to be passed here and then we can talk about it thereafter."
Schumer has said he intends to include the U.S. Innovation and Competition Act, which he introduced along with Senator Todd Young, an Indiana Republican, in a version of the annual defense bill that the Senate is scheduled to take up Wednesday. If it passes there, the House and Senate would negotiate differences in the two measures. 
Schumer's and Young's legislation cleared the Senate in June with broad bipartisan support. It would authorize more than $190 billion worth of programs to help the U.S. overhaul its research and development capabilities and well as providing emergency money for attracting semiconductor manufacturers to the U.S. 
That chips provision, which is backed by President Joe Biden, has been closely watched by semiconductor manufacturing companies, some which say it would be impossible to build new chip plants in the U.S. without those incentives. The discussions in Washington have unfolded as global chip shortages have hindered automobile manufacturers and other industries.
Schumer moved to include the legislation with the defense bill as a way to jumpstart negotiations with the House over measures to enhance U.S. competitiveness with China, according to a person familiar with the decision. The House has focused on passing individual pieces of legislation that could be used to put together a House version of the Senate bill with some differing priorities, including different levels of funding for some agencies.
The House effort has been led by the Science, Space and Technology Committee chair, Eddie Bernice Johnson of Texas, who said earlier this year that she wants to maintain a focus on supporting basic science.
The effort in the House "would focus not on developing technology for its own sake -- or for the singular goal of competitiveness -- but on advancing solutions that will help make people's lives healthier and safer, society more equitable, and the globe more resilient to a changing climate and other threats," according to a letter Johnson sent to Issues in Science and Technology, a quarterly journal of the National Academies of Sciences, Engineering, and Medicine. 
Representative Frank Lucas of Oklahoma, the top Republican on the panel, also said he had reservations about the Senate bill.
"The Science Committee has been ready to move our competitiveness legislation for months now," Lucas said in statement. "While I'm glad that there finally seems to be some engagement on this from White House," Schumer and House Speaker Nancy Pelosi, "the fact remains that we have 11 legislative days left in the year. That leaves very little time for negotiations, and there is a lot to be sorted out on competitiveness with China."
Lucas said that while he would like to work on U.S. competitiveness with China, he is wary of "rubber-stamping" the Senate bill.
"The House did our due diligence with thoughtful, strategic, bipartisan legislation on science and technology development, but USICA was cobbled together with hundreds of amendments," he said. "I'd like to move legislation on global competitiveness, but we have to do it the right way, and that isn't rubber stamping USICA."
Schumer's office did not immediately respond to a request for comment on Tuesday evening.
Meeks said he thinks there is still time to come to an agreement on legislation before the end of the year.
"I think we should work it out and get things resolved. And they can talk about their priorities and we can talk about ours," he said, adding that there have also been ongoing conversations about including the money for semiconductor incentives in the House legislation.