House Panel to Probe Trump's Financial Ties to Saudi Arabia
(Bloomberg) -- Democrats will probe whether President Donald Trump has financial ties with Saudi Arabia that colored his response to the murder of a U.S.-based journalist, said the top Democrat on the House Intelligence Committee.
The potential investigation comes as more Republican lawmakers pushed back against Trump's position of going easy on Saudi Arabia and its Crown Prince Mohammad bin Salman over the killing of Jamal Khashoggi.
"Is his personal financial interest driving U.S. policy in the Gulf?'' Representative Adam Schiff of California, who's expected to chair the panel in the new Congress, said on CNN's "State of the Union" Sunday. "We don't know, but it would be irresponsible not to find out.''
Democratic Representative Elijah Cummings of Maryland, in line to lead the House Oversight and Government Reform Committee, also said on NBC's "Meet the Press" that "it's definitely something that we need to look into."
Several news organizations including the Washington Post and New York Times have reported that the Central Intelligence Agency concluded the Crown Prince ordered the murder of columnist Khashoggi, carried out at the Saudi consulate in Istanbul in October. But Trump has said the findings aren't definitive, and he has instead emphasized the Saudi leader's denials.
Trump has also said he won't let the murder jeopardize U.S. relations with Saudi Arabia, citing the potential impact on oil prices and on weapon deals with the Kingdom. And he's denied having any financial dealings with the Gulf nation.
In 2015, then-candidate Trump boasted of his ties with Riyadh. "Saudi Arabia, I get along with all of them. They buy apartments from me. They spend $40 million, $50 million," Trump said during a campaign rally in Alabama.
Schiff, who said he's been briefed by the CIA on the matter, accused the president of misleading the American public about Khashoggi's killing.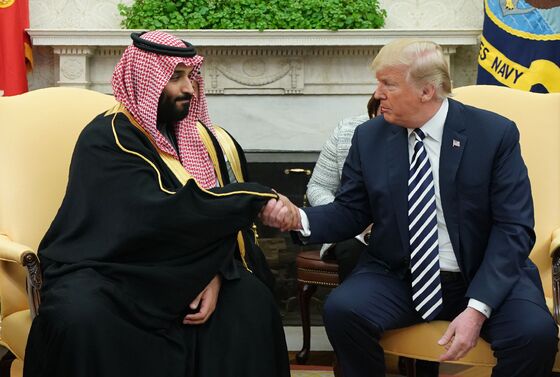 "While I can't discuss the contents of the briefing in any way, I can say that I think the president is being dishonest with the American people,'' Schiff said.
Republican Senator Mike Lee of Utah said on NBC that he disagrees with Trump's assessment, and that "intelligence I've seen suggests that this was ordered by the crown prince."
Iowa Republican Senator Joni Ernst said on CNN that Khashoggi's killing needed to be investigated further.
"If there any indicators that the prince was involved in the murder, then we need absolutely to consider further action," said Ernst, a member of the Senate Armed Services Committee.
A third Republican, Senator Susan Collins of Maine, said Sunday on Twitter that if Trump doesn't reconsider what the U.S. can do about the Khashoggi murder, Congress must step up.
Trump's decision to not punish the Saudis besides sanctioning individuals alleged to have participated directly in the killing of Khashoggi has triggered a backlash from Republican and Democratic lawmakers.
Senate Foreign Relations Chairman Bob Corker of Tennessee, who's retiring from Congress, and the panel's ranking Democrat, Bob Menendez of New Jersey, invoked a human rights-related law to require a formal U.S. determination addressing whether the prince is responsible for the murder. Such a determination could trigger additional sanctions.