House GOP Leader Balks at Bipartisan Plan for Jan. 6 Probe
(Bloomberg) -- House Republican leader Kevin McCarthy said he opposes the plan to set up a commission to investigate the Jan. 6 Capitol riots, even though it was negotiated by the top Republican and Democrat on the House Homeland Security Committee.
McCarthy said the commission could interfere with federal investigations into the incident and that its proposed scope was too narrow, focusing only on Jan. 6 and not unrest around Black Lives Matter protests or another attack last month on a Capitol police officer.
"Given the political misdirections that have marred this process, given the now duplicative and potentially counterproductive nature of this effort, and given the Speaker's shortsighted scope that does not examine interrelated forms of political violence in America, I cannot support this legislation," McCarthy said in a statement.
The House is set to vote this week on the creation of the commission, as well as a $2 billion special funding bill to bolster Capitol security. The plan to investigate the insurrection by a mob of former President Donald Trump's supporters that interrupted the certification of electoral votes has caused a schism in the Republican Party. Ten House Republicans broke ranks and voted to impeach Trump in the aftermath. House Republicans last week ousted Wyoming Representative Liz Cheney from her leadership post after she warned that Trump's repeated lies about election fraud were dangerous for the party and the country.
McCarthy's deputy, House Minority Whip Steve Scalise, sent a notice to GOP members recommending they vote against the commission, though his spokeswoman, Lauren Fine, said he wouldn't be actively pressuring Republicans on their vote.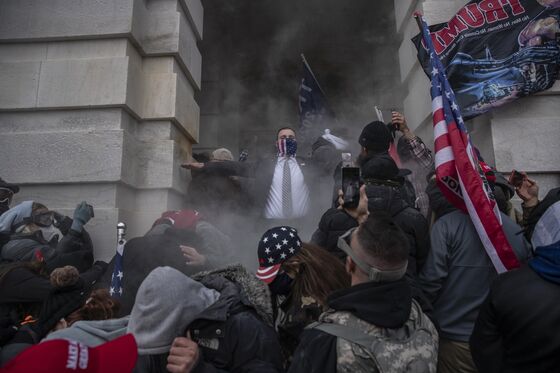 Republican Representative John Katko and House Homeland Security Chair Bennie Thompson announced an agreement on the commission Friday after months of failed negotiations between Speaker Nancy Pelosi and McCarthy. The 10-member commission would be evenly split between Democratic and Republican appointees. Subpoenas would require bipartisan support, one of the key GOP demands.
"I'm very pleased that we have a bipartisan bill to come to the floor, and it is disappointing but not surprising, the cowardice on the part of some on the Republican side not to want to find the truth." Pelosi told reporters Tuesday following McCarthy's statement.
McCarthy said in his statement that several committees, including the Senate Homeland Security Committee, as well as the Senate Rules Committee, were already investigating the Jan. 6 riot. Other Republicans said the creation of the commission was another attempt to discredit Trump.
"This commission isn't about justice, oversight or fact-finding; it's about Democrats' desperate need to keep prosecuting a former president and his supporters because their current agenda is failing the American people and destroying this country in real time," Texas Republican Representative Chip Roy said in a statement.
The commission legislation is still likely to pass in the Democratic-controlled House, and a vote is planned for Wednesday. Some Senate Republicans generally have been more open to the idea of an investigation of the Jan. 6 insurrection, though Minority Leader Mitch McConnell said Tuesday that he was undecided on it.
Like McCarthy, McConnell questioned whether such a commission would interfere with prosecutions related to the attack on the Capitol and said that he needed to look at the "fine print" of the House proposal.
Senate Majority Leader Chuck Schumer said he would bring legislation to create a commission to the floor for a vote whether or not McConnell backs it.
Senator John Thune, the chamber's second-ranking Republican, said Monday night that he assumes an investigative panel ultimately would be approved and would be "principally focused on what happened on Jan. 6."
Republican Senator John Cornyn said the investigation shouldn't be restricted to just the events of Jan. 6 necessarily, but it must address how the riot at the Capitol came about.
"Unfortunately like everything else up here, it tends to get politicized," Cornyn said. "We don't want to repeat what happened on January 6, and anything we might learn from an investigation that would help us prevent us I think would be worthwhile."
McCarthy's opposition was seen as a blow to Katko of New York, who was among the 10 Republicans who voted to impeach Trump but had largely escaped many of the attacks Trump loyalists had directed at Cheney. But that may change. Representative Matt Gaetz, who has closely allied himself with Trump, praised McCarthy's decision, comparing Katko to Cheney.
"Choosing a pro-impeachment Republican to lead negotiations was foolish from the start," he tweeted. "IDK why we have to empower the Cheney/Katko types before realizing the folly later, at higher political cost."