House Discord Deepens as Members Face More Security After Attack
(Bloomberg) -- New security measures at the Capitol added to tension among lawmakers as some Republicans bristled at being scanned before entering the House floor and Democrats responded, in the words of one, that they should "suck it up."
Heightened safety precautions put in place in the wake of last week's attack on the building included a new metal fence and National Guard troops surrounding the building, as well as magnetometers at the doors used by lawmakers heading into the chamber that were implemented by the Democratic majority.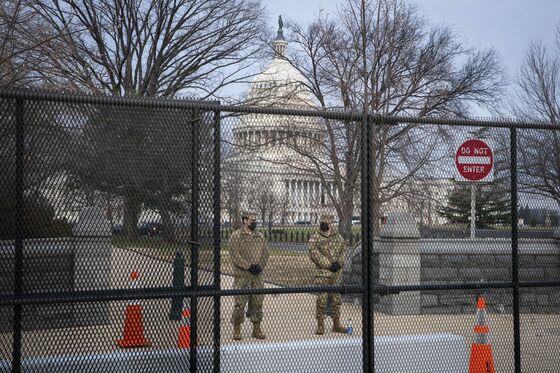 Multiple Republicans shoved past Capitol Police officers stationed at the scanners on Tuesday. Newly sworn-in Colorado Representative Lauren Boebert, a gun rights advocate, refused to open her handbag for police. Earlier this month she tweeted a video in which she vowed to carry her Glock handgun as she moved around Washington.
"You guys know the threat is not on the interior side of the building," Illinois GOP Representative Rodney Davis said in an intense exchange with House Majority Leader Steny Hoyer. "You're taking valuable resources completely away from where it needs to be and you guys did it without any consultation from the minority. It's bulls---."
Hoyer, a Maryland Democrat, responded, "Rodney, we're all going through magnetometers."
Democrats had little sympathy for Republicans complaining about the restrictions after the violence on Jan. 6 as Congress convened to certify the Electoral College votes. There 138 Republicans who voted on Jan. 6 to reject Biden's Electoral College win in at least one state even after the mob seeking to overturn the election has stormed the building.
Michigan Representative Rashida Tlaib and New York's Jamaal Bowman compared the security measures to the reality in some high schools.
Crews on Tuesday were still replacing shattered glass around the building, with one at work on the windows of the House chamber door where guards dragged furniture as a barricade to protect members from the mob. While the physical damage from the day is rapidly being repaired, the psychological wounds run deep among members of Congress, their staffs and Capitol police. One police officer on duty during the riots died by suicide over the weekend.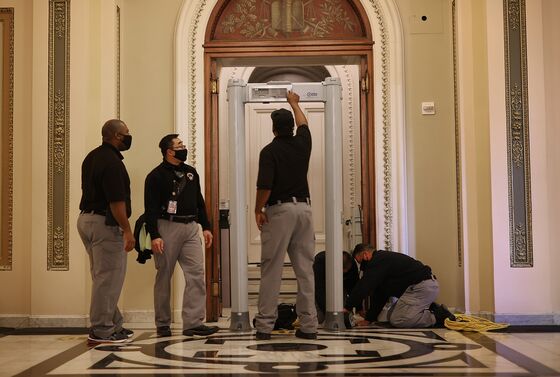 Democrats called the House back into session this week for Tuesday's vote on the non-binding resolution asking Pence to invoke the 25th Amendment to remove Trump, which the vice president said he won't do. The House is also set to vote Wednesday to impeach Trump for a second time.
Lawmakers returned with fresh memories of fleeing to safety and waiting hours while sheltering in locked committee rooms and basement bunkers. Some members of House Speaker Nancy Pelosi's staff hid under a conference room table while rioters banged on a locked, barricaded door.
House officials sent a reminder to members of Congress Tuesday that they could be reimbursed for purchasing bulletproof vests. National Guard troops in combat fatigues spaced 30 feet apart guarded a new 7-foot-tall non-scaleable metal fence buttressed by concrete highway dividers surrounding the Capitol.
Some of the groups and individuals behind last week's violence vowed to return as Washington prepared for what should be the peaceful transition of power to a new administration. Senate Democratic Leader Chuck Schumer called for those who stormed the Capitol to be put on the federal do-not-fly list barring suspected terrorists from commercial airline travel.
Details about the violence at the Capitol during the Jan. 6 riot have become more alarming as the investigation proceeds, with law enforcement officials at a press conference Tuesday describing periods of hand-to-hand combat during the rampage and groups of insurrectionists targeting media for assault.