House Democrats Restart Russia Sanctions Debate With Draft Bill
(Bloomberg) -- House Democrats are restarting the debate over additional Russia sanctions as punishment for the 2016 election meddling detailed in the report from Special Counsel Robert Mueller.
Draft legislation that would target Russian sovereign debt, energy sector and financial institutions was added to the agenda for Wednesday's House Financial Services subcommittee hearing on the use of sanctions to address national security challenges. The bill hasn't been formally introduced in the House, and there is no current timeline to bring it to the floor for a vote.
The bill's purpose is to gather ideas and hear from experts about how to more effectively implement sanctions, according to a person familiar with the committee's plans. Discussion during Wednesday's hearing touched on sanctions more broadly as a foreign policy tool, without advancing any additional measures that should be taken to punish Russia.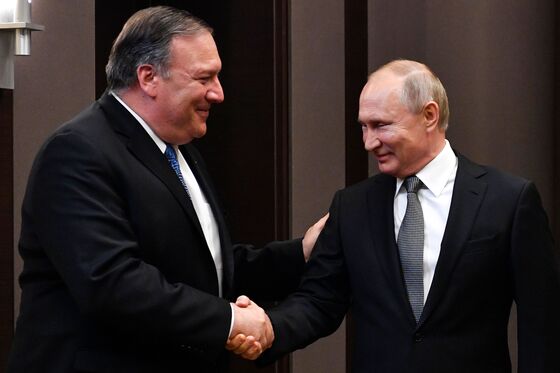 The subcommittee hearing was held the day after Secretary of State Michael Pompeo met with Russian President Vladimir Putin and said the two countries would like to restore better relations following the conclusion of Mueller's investigation. Lawmakers from both parties have urged a stronger U.S. response to deter Russia from interfering in the 2020 vote when President Donald Trump will be seeking re-election.
Financial Services Chairwoman Maxine Waters said she wanted to send a message to Russia and expressed frustration that the sanctions the administration has levied thus far don't seem to have accomplished that mission.
"I want to get directly at the systems that are used to undermine our democracy and our elections," Waters said in the hearing.
The bill drafted by the House committee borrows language from the Senate's Defending American Security from Kremlin Aggression Act, last year's bipartisan legislation from South Carolina Republican Lindsey Graham and New Jersey Democrat Bob Menendez. That bill, known as the DASKA Act, was re-introduced in February after it didn't get a vote last year.
The House bill, marked as a discussion draft, cites the Mueller report and its conclusion that "the Russian government interfered in the 2016 presidential election in a sweeping and systemic fashion." It includes quotes from FBI Director Christopher Wray and Director of National Intelligence Dan Coats calling attention to continued interference from Russia.
The House draft also proposes a requirement for intelligence agencies to report to Congress two months after future U.S. elections on any interference from Russia. This provision uses the same language as the Senate's DETER Act, from Florida Republican Marco Rubio and Democrat Chris Van Hollen, which was also reintroduced this year after it didn't get a vote last year.
Sponsors of the two Russia sanctions bills in the Senate aren't working directly with the House committee on its discussion draft.
"While Senator Menendez is pleased to see receptiveness to parts of DASKA in the House, he continues to push to move this critical bill forward in the Senate," said Juan Pachon, a spokesman for Menendez.