House Conservatives Accuse Liz Cheney of Being Disloyal to Trump
(Bloomberg) -- Representative Liz Cheney, the highest-ranking Republican woman in the U.S. House, came under attack Tuesday from a group of outspoken conservatives who accused her of being disloyal to President Donald Trump.
The intra-party squabble erupted during a closed-door meeting of the Republican Conference and spilled out onto Twitter, where the president's oldest son joined in.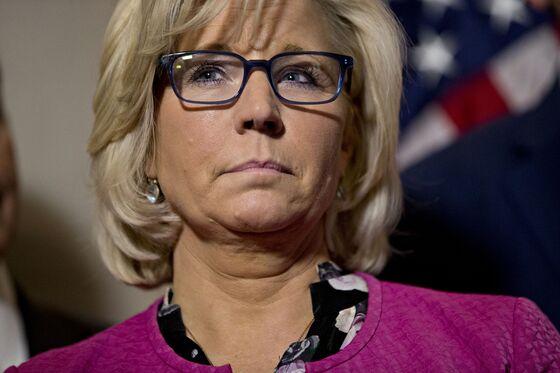 Florida Representative Matt Gaetz, who's closely aligned himself with Trump, led the charge against Cheney, tweeting that she's worked behind the scenes and in public to undercut the president and called for her to step down from her leadership post or be removed.
Donald Trump Jr. retweet Gaetz, writing, "We already have one Mitt Romney, we don't need another ... we also don't need the endless wars she advocates for."
House GOP leader Kevin McCarthy came to Cheney's defense at a news conference later, saying House Republicans are "honored to have her as conference chair."
Cheney brushed aside questions about the conflict, saying, "Freedom of speech is the right for all of us to have this kind of healthy debate and exchange."
The complaints against the Wyoming lawmaker, the daughter of former Vice President Dick Cheney, center on her breaks with the president on foreign policy, how he's handled the coronavirus crisis and her backing of a primary challenger to Republican Representative Tom Massie of Kentucky, according to multiple people who attended the meeting.
Among those who criticized Cheney were House Freedom Caucus Chairman Andy Biggs of Arizona, Representative Jim Jordan of Ohio and Representative Chip Roy of Texas.
The attacks on Cheney were reported earlier by Politico.
Cheney was a staunch defender of Trump during impeachment and she regularly votes in favor of his agenda.
But she has openly questioned whether Trump was aware of reports that the Russians offered Afghan militants bounties to kill U.S. troops and called for a more aggressive posture toward the Kremlin. She also publicly defended Anthony Fauci, director of the National Institute of Allergy and Infectious Diseases, at a time when he was under fire from the White House and some Trump allies.